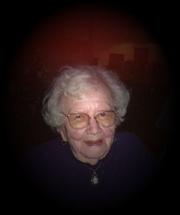 Share Your Memory of
Beulah
Obituary of Beulah M. Joy
Beulah Mae Joy of Medusa, NY died at her home May 16, 2010 at age 98. She was born on the Rugg Homestead in Medusa on October 28, 1911 to Edward and Lena (Scutt) Rugg. Her husband, Walter Corning Joy died August 29, 1955, leaving her with 3 children, Edward, Joyce and Elaine. Educated from a one room schoolhouse at Smith Corners, she graduated from the last class of the Greenville Free Academy in 1931 and was the last living graduate. After Walter's death, she worked to support her mother and her children as a clerk at 2 insurance companies and retired from NYS Executive Division of Military and Naval Affairs in 1976. Her family was her priority and her generous hospitality was known by many. She loved to cook, crochet, garden, arrange flowers, paint pictures, attend school events, and read. She was an encouragement to others as they pursued their interests. Her retirement was filled with adventures. She travelled the east coast with her friends, the "Golden Girls", and was the last surviving one. On two special birthdays she rode a motorcycle and flew in a hot air balloon. She enjoyed snowmobile rides and wedding dances. Each one has a special story of love. The Hiawatha Grange, Medusa Ladies Fire Auxiliary and Medusa Cemetery Association benefited by her service on committees, as an officer and by her example as she encouraged others to join the organization and lend their gifts. Together they helped those in need. To continue her hard work and love, she leaves behind her children: Edward (Vaila White) Joy of Feura Bush, NY, Joyce (G. Jon) Chase of Medusa, NY, and Elaine (David) Gardiner of Fairport, NY. Her grandchildren: (Ed's) Jennifer (Dave) Wheitner and Wayne Joy; (Joyce's) Gary Jon (Pamela Noirot) Chase II, Bonnie (Roger) Gifford, Bradley (Renea Carl) Chase; (Elaine's) Jeffrey Gardiner and Alison (Kenneth) Bersani. Great Grandchildren: (Gary's)Danielle (Clifton) Powell III, Elizabeth and Parker Chase; (Bonnie's) Henry and Ashley Gifford; (Bradley's) Nicole Chase; (Alison's) Matthew Bersani; great great grandchild: (Danielle's) Cyle Powell. Final respects will be at A. J. Cunningham Funeral Home, Greenville, NY on May 22, 2010 from 11:00-2:00PM. The Hiawatha Grange and the Medusa Fire Company will remember her during this time. Funeral service will begin at 2PM. Burial immediately following in the Medusa Cemetery on the corner of County Route 403 and 351. Light a candle at ajcunninghamfh.com.
Funeral Service
2:00 pm
Saturday, May 22, 2010
A.J. Cunningham Funeral Homes,Inc.
4898 SR81, PO Box 146
Greenville, New York, United States
Service Time: 02:00 PM
Interment at: Medusa Cemetery
3:30 pm
Saturday, May 22, 2010
Medusa Cemetery
49 CR351
Medusa, New York, United States