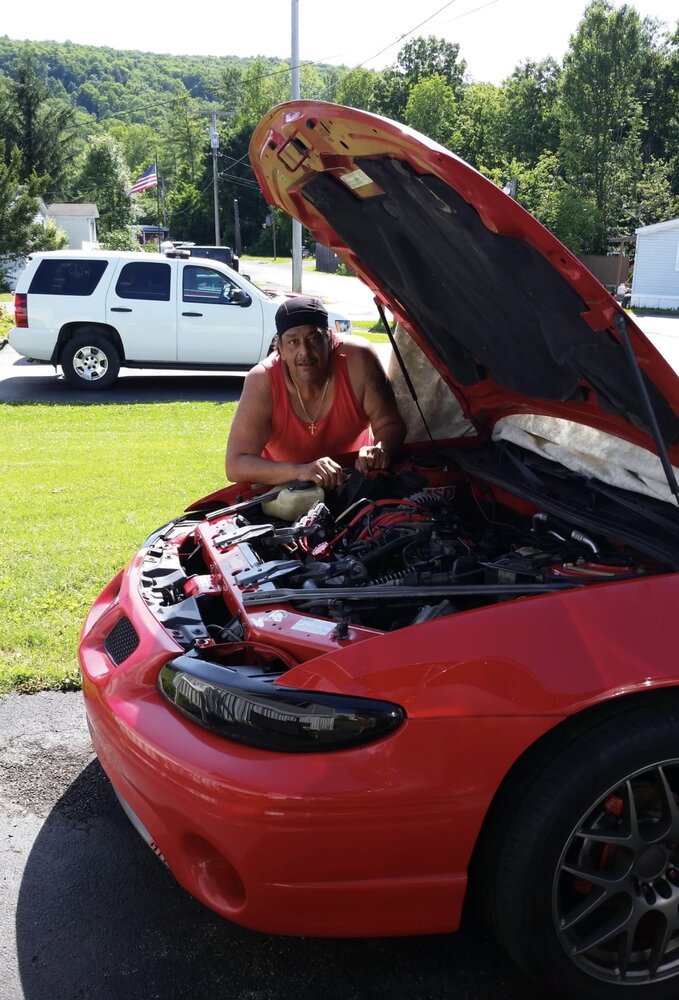 Share Your Memory of
Moises
Obituary of Moises Mendez
Moises Mendez, a man known by many names to those who loved him, passed away on April 20, at his home in Berne, with his family at his side. Born in Brooklyn on February 23,1963 at Kings County Hospital to the late Martin De Jesus and Carmen Serrano.
Moe was a strong-willed loving man; throughout his life he was a fighter and faced many challenging obstacles, but he never backed down from any of them. He spent his younger years in NYC before moving to Albany, working as a mechanic in Altamont, and finally finding his permanent employment at Tire Warehouse in Schenectady. He gained a host of friends that became family known as the "OG" Tire warehouse Crew. His Childrens' mother and close friends introduced him to Berne, and there he found his love of country living and that love won out over the fast city living life. However, Moe never forgot where he came from, he would take the family on vacations to Coney Island and all-around NYC.
Moe was a protector. When it came to his loved ones, he was a force to be reckoned with. He had a heart of gold, he was strong, stubborn, loving, and he ruled with an iron fist. He took in all the stray cats he could (even though he would pretend like he did not like them). And all the stray "kids", there is not a single friend of his daughters that Moe did not call his own, and all of them called him dad. His home was a safe house where memories were made. Moe loved music more than most and he never missed a Dave Matthews concert. One of his favorite things to do was hold concerts in his bedroom with his grandbabies (who called him Poppy Moe or Grampi), turning the music up so loud you couldn't hear yourself think. He loved taking the family to Dave and Busters, family memories were made and will be cherished forever.
If you ever hear anyone mention "Backwards Day", that is a day Moe created with Anthony, for his grandbabies, where he would take them to Jumping Jacks and let them eat dessert before dinner.
Everyone knew Moe from his red Pontiac GTP, which he took so much pride in.
And let us not forget how much Moe loved his Herbs, smoking them that is, which makes complete sense that Moe would leave us on 420! A day celebrated around the world for the "KIND" folk.
His final days were spent at home, surrounded by his family, friends, bonus children and grandchildren, all loving on him as a family is what he cherished and loved most of all. After all, "In the end, family is all you have". "Oyyy bendito"
Besides his father, Moe is predeceased by his brother and sister-in-law Jose and Vicky Muniz, and great niece Jordan B Muniz.
Surviving to carry on his memory and kindness he showed to all are his mother Carmen Serrano, brother Martin De Jesus Jr., sister Miriam De Jesus, his three daughters, Jessica (Ryan) Bartholf, Giena (Ricky) Mendez and Shellie (Danny) Mendez. And his adorable grandchildren Ricky Jr, Anthony, McKenna and Leeha.
A memorial celebration will be held on Tuesday May 2nd from 4 to 6 PM. At the A.J. Cunningham Funeral Home, 4898 State Route 81, Greenville. Condolences can be posted at ajcunninghamfh.com.
Memorial Celebration
4:00 pm - 6:00 pm
Tuesday, May 2, 2023
A. J. Cunningham Funeral Home
4898 State Route 81
Greenville, New York, United States