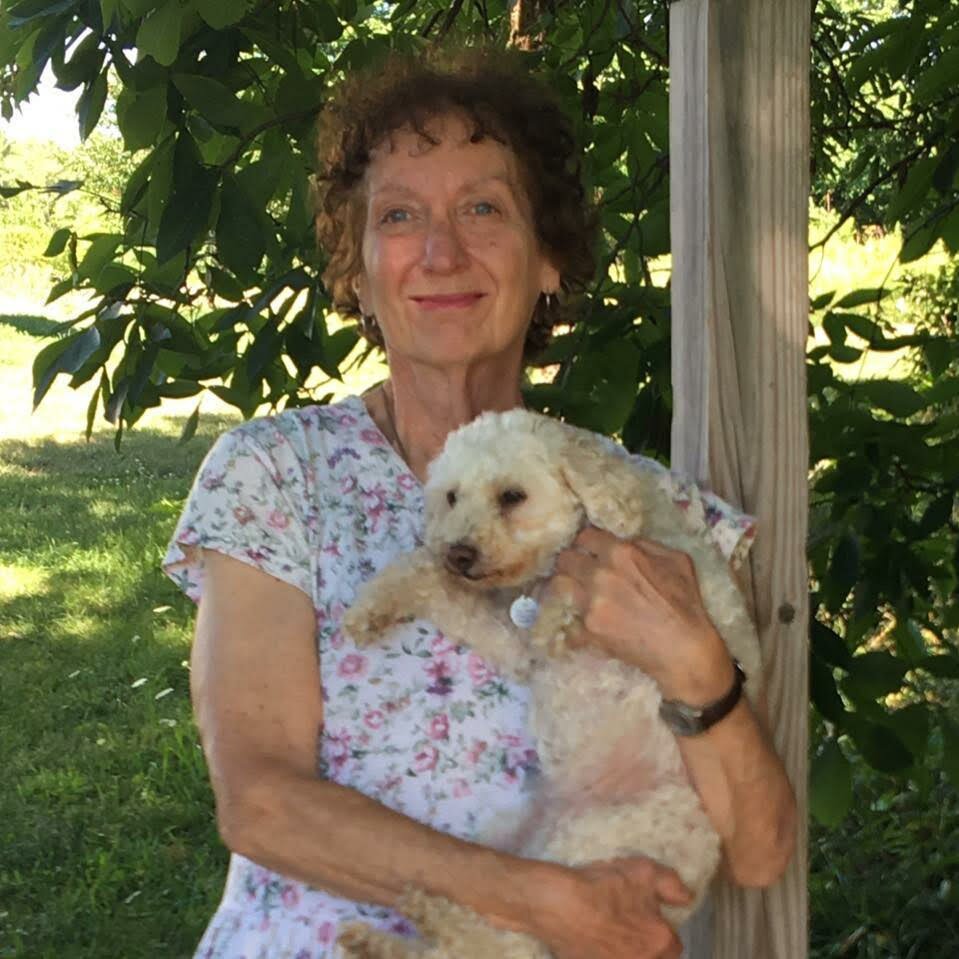 Share Your Memory of
Marie
Obituary of Marie L. Goodman
At any rate, that is happiness; to be dissolved into something complete and great. When it comes to one, it comes as naturally as sleep. (Willa Cather)
Marie Louise (Wunsch) Goodman died peacefully at home on the evening of November 28, 2022 at the age of 75, after a two-year journey with lymphoma. Born in Michigan and raised in Green Bay, Wisconsin, Marie was the oldest of six children, and devoted much of her life to the caretaking of others. Friends, family, beloved pets, colleagues, and even acquaintances knew her as a warm and giving spirit, a good listener who took a keen, genuine interest in others.
After graduating from the University of Wisconsin Madison, with a B.A. in English, the idealistic young Mary Lou moved to Montreal and changed her name to Marie at the border, in hopes of meeting the singer-songwriter Leonard Cohen and fulfilling her fantasy of a less provincial life. There she crossed paths with a handsome McGill student, Mark Goodman. Marie and Mark married and traipsed through Boston, Cambridge, NYC (including a stint at the famed Chelsea Hotel), North Dakota, Minnesota, and Pennsylvania. They had two daughters, Rachel and Jenna, whom Marie raised in Madison, WI and Dracut, MA. As a single mother, Marie was joyful, loving, imaginative, and incredibly hardworking. She built a career as a skilled medical transcriptionist, often working two to three jobs to support her family, yet still finding time for community service and family camping trips. She taught her daughters to march for nuclear disarmament, stand up against injustice with compassion, and revere the peace and power of the natural world with wonder. In her later years she cared for her own aging mother and provided a second home for her nephew Andrew in Door County, WI, before moving to Greenville, NY to live near her daughters and grandchildren. Across these years she built a lifetime community of dear friends spanning the country.
Marie loved reading poetry and fiction; drawing and painting; playing piano; listening to classical music; cooking and baking, and gardening. She had a special gift for nurturing plants and animals, and filled her home with greenery and a menagerie of fish, hamsters, mice, turtles, guinea pigs, rabbits, cats, and dogs. Her home was always warm and open, a safe and loving gathering place for her daughters' friends and her own. She volunteered in adult literacy and as a plover warden at Crane's Beach in Massachusetts, protecting the birds' fragile nests in the dunes. Her life wasn't easy and she faced many challenges, but she walked softly on the earth, strove for grace, and sought to treat everyone with compassion.
Marie is predeceased by her parents, Charles and Barbara Wunsch; her brothers, Robert Wunsch and Christopher Adam; her sister, Paula Kyllonen; her former husband, Mark Goodman, and her dear friend, Susan Elbe, along with many cherished animal companions. She is survived by her daughters, Rachel de Long (Eric) and Jenna Naomi Goodman (Brock); her grandchildren, Malcolm, Garrett, Clara, Colvin, and Leonard; her brother, David Wunsch, sister, Linda (Michael) Shaw, and brother-in-law Ben Kyllonen; her nephews, Andrew, Adam Christian, and Kevin; her honorary daughter and granddaughters, Sarah Dionne, Shane Allerheilegen, and Scarlett Brooks; and many dear friends.
Marie cared deeply for the planet and all its living creatures, and she lived with a sensitive spiritual attunement to all that is real but unseen. She saw the reflection of God in all she encountered; we believe she is now resting in completeness and light.
Marie has been cremated privately. A celebration of her life will take place locally in mid-December.
In lieu of flowers, memorial donations can be made to The Nature Conservancy.
Condolence messages may be posted at ajcunninghamfh.com.
A Memorial Tree was planted for Marie
We are deeply sorry for your loss ~ the staff at A.J. Cunningham Funeral Home - Greenville