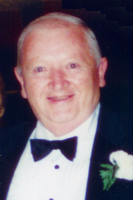 Anthony "Tony" Scanlon
GREENVILLE – Anthony "Tony" Scanlon, 79, passed away on Sunday, July 14, 2019 at Albany Medical Center. Tony was born in Dingle, County Kerry, Ireland on Sept. 22, 1939, son of the late Padraig and Margaret Driscoll Scanlon. He grew up in Ireland and spent 5 years in England before coming to America in 1963. He lived for several years in Virginia before settling in the Bronx. Tony worked as a paper handler at the New York Times for many years, and part-time at the Daily News and the New York Post. After marriage and while raising their family in the Bronx, Tony and Mary vacationed in Greene County, eventually retiring in Greenville. Tony was a member of the Greenville American Legion Post 291, and a former member of the Kerrymens Association in the Bronx. Tony had a beautiful singing voice, and played the tin whistle, as well as many other instruments. He volunteered at Eden Park Nursing Home in Catskill, entertaining the residents with music, and formerly sang in the choir at Our Lady of Knock Shrine in East Durham.
Tony is the beloved husband of 51 years of Mary Martin Scanlon; loving father of Margaret Scanlon-Amorin (Marcos), Eileen Helly (Mark), Angela Scanlon Santarelli, Elizabeth Leahy (Timmy), and the late Patrick Anthony Scanlon, who died in 1971 at age 9 months; proud grandfather of Joseph Kelly (Emily), Padraig and Ciara Leahy, Mairead and Fiona Helly, and Zander Santarelli, and great-grandfather of Jane Kelly. Tony was one of 15 siblings, four of whom survive in Ireland and England, along with many nieces, nephews and cousins.
Relatives and friends are invited to attend a Memorial Mass on Wednesday, July 17th at 11 a.m. in St. John the Baptist Church, 4987 State Route 81, Greenville. There are no calling hours. Burial of ashes will take place privately, and at a later date. In lieu of flowers, memorial donations to the Alzheimer's Association, 4 Pine West Plaza, Suite 405, Albany, NY 12205, or online at www.alz.org will be appreciated. Condolence page is available at ajcunninghamfh.com.