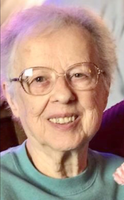 Alice Janet Armstrong
CORNWALLVILLE - Alice Janet Armstrong passed away on May 29th at the Hospice Inn of St.. Peter's Hospital in Albany. She was 85. "Janet", as she was known throughout her life, was born on March 19, 1934 on the family farm in Durham, the daughter of the late Norman and Evelyn Teator. She grew up in a large, busy household, actively engaged in farm life through the years of the Great Depression and World War II. Janet attended Durham Central School and Greenville Central High School, graduating from each as valedictorian. After graduation, Janet worked at the Pioneer Insurance Company in Greenville until she married Robert Armstrong on June 7, 1953. She then began her lifelong role as wife and mother. Janet was a steadfast partner as Robert engaged in farming, factory work, public office, and other occupations. She also returned to work at Eastern Cooperative Insurance Company, from which she eventually retired. Together she and Robert raised their four children, and then joyfully welcomed several grandchildren, and step-grandchildren. Upon retirement, Robert and Janet enjoyed family activities, community activities, travel, and their winter home in Florida. They also enjoyed many social activities with their large circle of friends and family members. Janet was a fifty-year member of the East Durham Volunteer Fire Company Ladies Auxiliary, and a member of the Oak Hill-Durham United Methodist Church. After Robert's death, Janet continued her role as a treasured mother, grandmother, and great grandmother, giving freely of her wisdom and unconditional love. Janet was a kind, loving, generous person of intelligence, humility, quiet strength, and character. No one knew these qualities better than her family, who were blessed by her presence and will miss her every day.
Janet is survived by her children, Robert Jr. (Bonnie), Claudia Every (Gene), Jennifer Ganzhorn (Dann), and Lawrence (Michele); her grandchildren, Robin Armstrong, Amanda Stegner (Chris), Lisa MacNeill (Kevin), Nicole Brudapast, Jackie Murray, Robert J. Armstrong, and Megan Armstrong; and her great grandchildren Cora Stegner and Emmalyn MacNeill. Janet was blessed with step grandchildren, Susan Carpenter (John), Cynthia Bennardo (Rocco), Michelle Every, Kimberly Murphy; and step great grandchildren, Jose, Rocco, Damon, Antonio, Arianna, Kristoffer, Samantha, Blake, and Brady. Janet is also survived by her sister in law Stella Teator; and by nieces and nephews, Deborah Maikis, David Armstrong, Gary Teator, Mark Teator, Darren Teator, Jay Teator, Sharon Hayner, and William Teator.
Janet was predeceased by her husband Robert, her parents, her in-laws Clarence and Edna Armstrong, her sisters Dorothy Turner and Shirley Teator Ritter, her brothers Howard Teator and Raymond Teator, brothers-in-law Herbert Armstrong and Edward Ritter, sisters-in-law Barbara Teator and Trudy Armstrong, and niece Linda Ruocco.
Janet is also survived by and predeceased by many uncles, aunts, and cousins and their families whose friendship and family ties were precious to her throughout her life.
Calling hours will be on Friday, May 31st from 4 to 7 pm at the A. J. Cunningham Funeral Home, 4898 State Route 81, Greenville, NY 12083. Funeral services will be on Saturday, June 1st at 11 am at Durham Oak Hill United Methodist Church, 522 County Rte. 22, Durham, NY 12422, followed by burial in the Cornwallville Cemetery. In lieu of flowers, donations can be made to the Durham-Oak Hill United Methodist Church, c/o Claudia Every, Treasurer, 347 Sutton Road, Cornwallville, NY 12418, or to the East Durham Volunteer Fire Company Ladies Auxiliary, c/o Mandie Viscusi, Treasurer, 286 Polly's Rock Road, Round Top, NY 12473. Condolences can be posted at ajcunninghamfh.com.