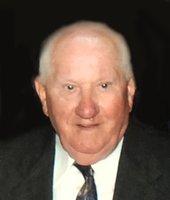 John Grogan, Jr.
COXSACKIE – John Grogan, Jr., 92, passed away on Sunday April 7, 2019 at the Community Hospice Inn at St. Peter's Hospital. He was born on July 4, 1926 in County Clare, Ireland, to the late John Sr., and Nora Meaney Grogan. John moved to the United States in the 1960's and resided in Brooklyn for the majority of his life. He worked as a doorman for various locations and after he retired, he moved to Bethany Village in Coxsackie. John loved going on walks, exercising, and dancing. In addition to his parents, he is predeceased by his siblings, Patrick, Thomas, and May.
John is survived by his brother, Michael (Sarah) Grogan; his sister, Gertie (the late Pete) Casey; and many nieces and nephews.
Calling hours will be held on Sunday April 14th from 1 to 3pm & 5 to 7pm at the A.J. Cunningham Funeral Home, 4898 State Route 81, Greenville. A Funeral Mass will be held on Monday April 15th at 1pm at Holy Trinity/St. Mary's Church, 429 E Allen St, Hudson, NY 12534, followed by burial in St. Patrick's Cemetery, Catskill. In lieu of flowers, donations can be made to St. Joseph's Seminary c/o St. Joseph's Seminary Development Office, 201 Seminary Ave., Yonkers, NY 10704. Condolences can be posted at ajcunninghamfh.com.