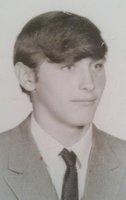 Garry Allen Van Iderstine
Garry Allen VanIderstine, 66, of Marion South Carolina passed away Saturday February 2, 2019 after a courageous battle with cancer at his brother's home with his family by his side. Garry was born on October 4, 1952 at Brady Maternity, Albany, NY, the 3rd child of Richard Leslie and Bernice Kline (Hotaling) VanIderstine Sr. He was a loving and devoted father to his children and recently became a grandpa, which lit up his world. In his early childhood his family resided in Berne, later moving to the small hamlet of Dormansville. He graduated from Greenville High School in 1970 with a regents diploma. After graduation, he joined the US Navy, where he was a Seabee. Garry spent most of his life working as a heavy equipment operator, which he was very talented at. Over his career, he worked for many friends including Harold Lounsbury, Ned Donaldson, and Porter Excavating. He became a member of Local 106 working with his brother at James H. Malloy. In addition, he worked as a security guard for the City of Albany at the Alcove Reservoir from which he retired. During his retirement he also worked at Walmart, where his hard work was recognized by earning Employee of the Month several times.
Garry will always be remembered for his quick wit, intelligence and his ability to fix just about anything. He loved animals, especially his horses. He participated in Gymkhana horse shows, team penning and amateur bull riding. He loved fishing, hunting, trapping and camping - including fly-in-fishing trips with his family and friends. He was very talented in leather work and drawing.
Garry is predeceased by his parents; older brother, Richard Jr.; sister-in-law, Linda; youngest sister, Denise Irizarry-Barkley; youngest brother, Darrin; and his mother-in-law, Anna Brisk.
He is survived by his daughter, Alicia Lomio; son-in-law, Frank; his son, Patrick Toma; his daughter-in-law, Adriana; his precious granddaughter, Harper Grace; his siblings, Rise, Sharon (Paul), Roger, Wilfred (Renee); nieces and nephews Richard (Lisa), Jeffrey (Tina), Liddy (Alan), Autumn VanIderstine, Steven (Aliex) Irizarry and Andrea Brown - who is also his God daughter; great nieces and nephews Richard IV (Katie), Megan, Stephanie, Samantha VanIderstine, Nolan and Sawyer Brown, and Samuel Irizarry; great-great niece and nephew LunaBell and Richard V; his wife, Tanya; sister-in-law, Donna (Bill) Brisk; brother-in-law, Dean (Tracie) Brisk; and his dear friends, Ed (Vicky) Price and Bobby Lee.
Special thanks to Brianna from the VA who always went above and beyond to make sure that he was well taken care of, and to Joe & Janis Sala, Sam & Anita Clayton and Pastor Will Balta & his wife Devon.
Calling hours will be held on Friday February 8th, from 4 to 7pm at the A J Cunningham Funeral Home, 4898 State Route 81, Greenville. The funeral services will begin at 6:30pm by Charlie Faul. Condolences can be posted at ajcunninghamfh.com.