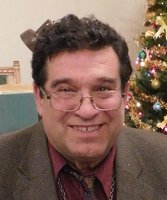 Rev. Warren G. "Butch" Beeman
MEDUSA – Pastor Warren "Butch" Beeman, 67, passed away suddenly at home on Friday February 1, 2019. He was born in Canandaigua, NY on December 26, 1951 to the late Warren and Betty Gean Smith Beeman. He grew up in Honeoye, by one of the Finger Lakes. In his younger years, he was a life guard at the lake, he played football, baseball, and wrestled in high school. He graduated from Catawba College with a major in Philosophy and Religion. He went on to get his Master of Divinity at Lancaster Theological Seminary in Lancaster, PA. Later in life he did many hours of Doctoral Studies with a focus in Pastoral Counseling. He served churches in Maryland, Pennsylvania, and New York. He was the pastor of Medusa United Church of Christ for the last 24 years. He was also proud to be the chaplain of the Medusa Volunteer Fire Company and was the current president of the Greenville Inter Faith Council. He married the love of his life, Pamela Jean Carter, at Camp Medusa outdoor chapel in Medusa almost 44 years ago, after a 4 month courtship. They lived full time in Medusa for the last 27 years. He adored his 3 children, Katie Conroy (Jason), Peter Beeman (Frannie), and Daniel Beeman (Chelsea Doyle); his 6 grandchildren Siri (21yrs), Orien (15yrs), Anthony (11yrs), Hunter (9yrs), Bella (6yrs), and Declan (7months). He was looking forward to possible future grandchildren. Butch was the quintessential "jack of all trades". He built his own house and worked on his children's houses. He and his boys worked on cars and tinkered on machinery and electronics. His daughter inherited his ability to counsel and preach. He was often on the computer doing intense genealogical research. He found thousands of family members and verified their relationships. He shared his knowledge with his children and grandchildren and to anyone who would listen. He loved to call his 5 sisters, Karyn, Kathy, Debbie, Denise, and Tina, and tease them about the weather. He would predict snow in July! Warren "Butch" loved God, Jesus the Emmanuel (God with us!), his family, his church, and his community. He will be sorely missed, remembered forever, and we believe we will see him in Heaven when our time comes.
A memorial service will be held on Saturday February 9th at 1pm at the Medusa United Church of Christ. Burial of his ashes will take place in the spring. In lieu of flowers, donations can be made to the church, c/o William Moore, 11 CR 351, Medusa, NY 12120. Condolences can be posted at ajcunninghamfh.com.