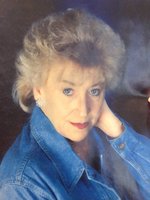 AnnMarie Kukla
AnnMarie Kukla, 76, longtime resident of Cornwallville, passed away at Albany Medical Center on Monday, January 28, 2019 after a long, courageous battle with lung disease. She was surrounded by her family. AnnMarie was born February 24, 1942 in Manhattan to the late Mary E. Kelly and James P. Gillick. She is survived by her loving husband, Edward; her 4 adoring children Denise (Omar) Walizadeh, Jennifer (Tom) Bungay, Lynda Negri (fiancé Wayne Zarcone), and Edward (Meera) Kukla; and 8 grandchildren: Aryana, Jasmine, and Zakary Walizadeh; Thomas, Ryan, and Brandon Bungay; EJ Kukla and Emily Sooknanan. She was predeceased by her brother, James Gillick.
For all that knew Annie well, her day never started without a cup of tea with lemon. She was a fashionable woman who always dressed to impress (even for a quick trip to the grocery store). Annie had a strong-willed personality and would put up a fight for what she believed in. She was a social butterfly who loved to dance and definitely has her dancing shoes on in heaven. Annie will be greatly missed by all who had the pleasure of knowing her.
Calling hours will be held on Thursday, January 31st from 4-7pm at the A.J. Cunningham Funeral Home, 4898 State Route 81, Greenville, with a funeral service at 6:30pm. Memorial contributions in Ann Marie's name may be made to the American Lung Association at www.lung.org. Condolences can be posted ajcunninghamfh.com.