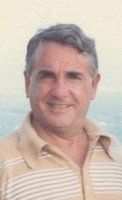 Danny A. Grandone
GREENVILLE – Danny A. Grandone, 93, passed away peacefully on Saturday January 19, 2018 at The Grand at Guilderland. He was born on January 23, 1925 in Manhattan to the late Joseph and Angela Metallo Grandone. After graduating high school, he went to work for Moran Towing and Transportation. Danny joined the Army in 1945 and was Honorably Discharged in 1946. He then continued working for Moran, working as a marine dispatcher until his retirement in 1982. On November 23, 1958 he married the love of his life, Norma Visnovitz, to whom he was blessedly married to for 60 years. Danny and Norma had a weekend house in Greenville for 30 years, before moving up full time in 2008. He was a member of the American Legion Post #291. He loved playing sports, especially basketball and baseball and he enjoyed spending time with his family. In addition to his parents, he is predeceased by his sister Helen Colangelo.
Danny is survived by his beloved wife, Norma Grandone; his sons, Joseph (Alana), Donald (Peri), Anthony, Michael, and Robert (Jennifer) Grandone; his grandchildren, Andrew and Brittany Grandone; his sister, Mary DeBerry; his nieces, Lynne Noviello and Angela Riccobono; and his nephews, Steven and Joseph DeBerry.
A Mass of Christian Burial will be offered on Friday January 25th at 9:45am at St. Robert Bellarmine Roman Catholic Church, 56-15 213th St, Bayside, NY 11364, followed by burial in Calverton National Cemetery, Calverton, NY. In lieu of flowers, donations can be made to a charity of ones choice. Condolences can be posted at ajcunninghamfh.com.