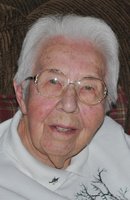 Margaret S. "Peg" Filkins
WESTERLO – Margaret S. "Peg" Filkins, 95, passed away suddenly at home on Tuesday January 8, 2019. She was born on January 26, 1923 in Hoboken, NJ to the late Leonard Sr. and May Daley Storm. Her family moved to Westerlo when she was a child and she graduated from Greenville Central School in 1941. She then went to work at GE for five years, before becoming a clerk at the Westerlo Post Office. She worked there for 44 years and retired in 1990. Peg married the love of her life, the late Clyde L. Filkins, on June 16, 1946 and they were married for 61 wonderful years before his passing in 2007. Peg enjoyed playing cards, having played twice a week with many friends. She was loved by everyone and was known for her generosity, her compassion, and for her knowledge of life, which positively affected a lot of people. Peg will be remembered especially for her spunk. In her younger years, she enjoyed traveling, snowmobiling, and camping, both locally and across the US. In addition to her parents and husband, Peg is predeceased by her brother, Leonard Storm, Jr.; and her nieces, Marlene Boomhower, Lee Crosier, Janice (Fred) Bassler, Charis Cummings, and Diane Chamberlain.
Peg is survived by her nephews, Richard (Wendy) Storm, Raymond (Karen) Storm, Dennis Boomhower, Dennis Cummings, Merritt Chamberlain, Dennis (Debbie) Le Buis, Robert (Roberta) Le Buis, and Donald (Donna) Le Buis; many great and great-great nieces and nephews; and special friends and neighbors, Val and Howie Slingerland.
Calling hours will be held on Sunday January 13th from 11am to 1pm at the A.J. Cunningham Funeral Home, 4898 State Route 81, Greenville, followed by a funeral service at 1pm. She will then be buried in the Westerlo Rural Cemetery. In lieu of flowers, donations can be made to either the Westerlo Reformed Church, PO Box 70 or the Westerlo Rescue Squad, PO Box 12, both in Westerlo, NY 12193. Condolences can be posted at ajcunninghamfh.com.