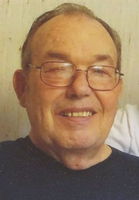 William Arthur Mueller
ALCOVE - William Arthur Mueller (Bill or Art), age 79, passed away suddenly on Monday December 24, 2018. William was born on December 22, 1939 in Hoboken, NJ. He was the son of the late William Oscar and Hildegard Koenig Mueller and the husband of Bettejean (BJ) Lounsbury Mueller. William was a longtime resident of Alcove and a graduate of the class of 1957 at Ravena-Coeymans-Selkirk High School. Upon graduation, William served as a radio operator in the US Army from 1957 to 1960. After his military service, William was an electrician for the Local IBEW 236 for 35 years. William was also an active member of the Alcove Preservation Society for 20 years.
William is survived by his wife, Bettejean; his daughter, Dawn Marie (Peter Forsythe) Mueller; his sons, Christopher William (Brittany Patterson) and Craig Ronald (Lauren Fisch) Mueller; his grandchildren, Max, Schuyler, Liam, and Fionn Forsythe, Marcus and Megan Mueller, and Ashleigh Patterson; his siblings, Vivian Clark, and Ronald (Joyce Flach), Norman, Robert, Philip, and Richard (Robyn Polverelli) Mueller; his special cousin, Steven (Lizdiel Cohen) Herring; as well as many nieces and nephews.
William has been privately cremated. A visiting hour will be held on Saturday January 5th from 11am to 12pm, followed by a memorial service at 12pm at the Dormansville United Methodist Church, 21 County Route 312, Dormansville, NY 12055. There will be a reception in the church hall to follow. In lieu of flowers, donations can be made to the Dormansville United Methodist Church. Condolences can be posted at ajcunninghamfh.com.