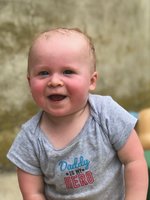 Jace Matthew Czaplicki
FREDERICKSBURG, VA – Jace Matthew Czaplicki, 17months, passed away suddenly on Saturday November 24, 2018. He was born on May 31, 2017 in Fredericksburg to Andrew and Nicole Labuda Czaplicki. He was a beautiful and joy filled boy who was always smiling. He loved to high five, to clap, to dance, and be tickled. He loved food; always saying "more", enjoying second and sometimes third helpings, and dancing with his "happy feet" whenever he ate sweet treats. He attended Fredericksburg Children's Academy with his brother Zane and several friends. The family are active members of Lifepoint Church in Fredericksburg, where Jace shared his smile, laugh and high fives with everyone he met. Jace enjoyed playing hide and seek with his brother, pretending to cook, making music with a rolling pin, playing basketball and soccer, taking things out and putting them away again, and swinging on swings in the back yard. He was a mama's boy and loved his brother and their dogs, Casey and Sam. He loved all animals and enjoyed feeding the dogs from his dinner plate. He was loved by everyone who met him.
Jace is survived by his loving parents, Andrew and Nikki Czaplicki; his beloved brother, Zane Czaplicki; and many grandparents, great-grandparents, a great-great-grandmother, and numerous relatives.
Jace has been privately cremated. Calling hours will be held on Wednesday November 28th from 4 to 6pm at the A.J. Cunningham Funeral Home, 4898 State Route 81, Greenville, followed by a memorial service at 6pm. In lieu of flowers, the family requests that monetary donations be made to Compassion International at www.compassion.com/jace in memorial of Jace and his absolute love of people. A special thank you from the family to the Greene County Sheriff's Office, New York State Troopers and Medway-Grapeville First Responders for their professionalism and support. Condolences can be posted at ajcunninghamfh.com.