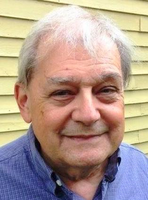 Nicholas C. "Nick" Nahas
OAK HILL – Nicholas C. Nahas, 77, passed away peacefully at home on Saturday November 3, 2018. He was born on July 18, 1941, in Hot Springs, Arkansas, to the late Joseph and Marian Davenport Nahas. After graduating high school, he attended Arkansas Tech and the University of Arkansas, where he received a PhD in Chemical Engineering. He served in the US Army Chemical Corps as a test officer from 1968-70. After military service he worked in Texas, England, and New Jersey for Exxon Mobil for more than 30 years as a research scientist and manager. He held numerous patents and authored many publications. He was honored by the University of Arkansas as a Distinguished Alumnus for his work in the field of energy. After retirement from Exxon, he was recruited by Great Point Energy and consulted for them for ten years. After spending 35 years in New Jersey, Nick and his wife moved to their historic home in Oak Hill. He served on the Durham Town Board, was currently the Deputy Town Supervisor, was a founding member of the Oak Hill Preservation Association, a member of the Durham Historic Preservation Commission and was the Durham Historian. He was a member of the Durham-Oak Hill United Methodist Church, Greene County Historical Society, the Durham American Legion, the Scenic by-Ways Committee, The Comprehensive Plan Committee, various book clubs and historic groups. In addition to his parents, he is predeceased by his brothers, Mike and Majeed Nahas.
Nick is survived by his beloved wife of 56 years, Mary Lou Gordon Nahas; his children, Christopher Gordon Nahas of Oak Hill and Sara Ellen Nahas (Kallan Kagan) of Bentonville, Arkansas; his sister, Deeda Syage of San Diego; and numerous nieces and nephews.
Nick has been privately cremated, and a memorial service will be held on Saturday November 24th at 10 a.m. at the Durham-Oak Hill United Methodist Church, Susquehanna Turnpike, (County Route 22), Durham, followed by burial in the Oak Hill Cemetery. In lieu of flowers, donations can be made to either the Oak Hill Preservation Association, P.O. Box 22, Oak Hill 12460; to the Durham Oak Hill United Methodist Church, 347 Sutton Road, Cornwallville, 12418 ; or to Kitten Angels, 233 Houseman Street, Mayfield, NY 12117-3948. Condolences can be posted at ajcunninghamfh.com.