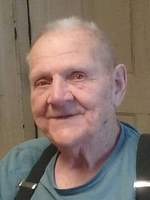 William F. "Bill" Bichteman
WESTERLO – William F. "Bill" Bichteman, Sr., 93, passed away on Monday, August 13, 2018 at St. Peter's Hospital. Born in Albany on July 4, 1925, he was a son of the late Albert and Ethel Maxwell Bichteman. The family moved to Westerlo when Bill was 10 years old, and he has resided here since. Bill was a graduate of Greenville High School, and served in the U.S. Navy during World War II. Following discharge from the service, he worked on the family farm, drove interstate trucking, and repaired cars at home. He owned his own garage in Westerlo from 1960 to 1975, and did subcontract mechanical and machining work after that. Bill was a championship race car driver. He started racing jalopies at Burden Lake in his younger years, and was NARDC champion in 1952 and 1954. Bill raced throughout the Capital District. One of the cars he drove is in the Saratoga Automobile Museum.
Bill is survived by his wife of 72 years, Florence Stott Bichteman; two children, William F. (Mary Pat) Bichteman, Jr., and Paula (Joseph) Clemens; five grandchildren, seven great-grandchildren.
Relatives and friends are invited to attend a graveside service on Friday, August 17th at 10 a.m. in Holy Spirit Lutheran Cemetery, Feura Bush Road, Glenmont. There are no calling hours. Condolences may be posted at ajcunninghamfh.com.