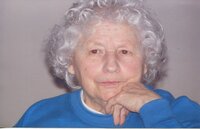 Angelina T. "Angie" Meilak
SELKIRK – Angelina T. "Angie" Meilak, 92, passed away at her residence on Monday morning, April 24, 2023.
Angie was born in New Baltimore on August 28, 1930, a daughter of the late Antonio and Felice Annello Testa. She was a graduate of Ravena-Coeymans High School. Angie worked as a teller at the former Home Savings Bank in Albany. She then moved to New York City for a few years, where she worked at Franklin Savings Bank. Returning to Selkirk, Angie and her husband Chuck opened Meilak's Mobile Home Park. She was a lifelong communicant of St. Patrick's Church in Ravena where she volunteered in the thrift shop. Angie was a member of the Selkirk Fire Company Ladies Auxiliary, Mother McAuley Council 3424 Columbiettes, and Senior Projects of Ravena.
Angie is survived by her children, Anthony (Jackie) Meilak, Larry Meilak, and MaryAnn Meilak; 4 grandchildren, Chad, Lindsay, Brittany, and Joshua; 4 great-grandchildren; her sisters, Catherine Testa, Antoinette Robbins, and Anna Ruth Testa; many nieces and nephews. In addition to her parents, Angie was predeceased by her husband, Charles J. Meilak; and siblings, Diana Dutton, Rose Crisafulli, Frank Testa, and Mary Poff.
Calling hours will be Monday, May 1st from to in St. Patrick's Church, 21 Main Street, Ravena. Funeral Mass will be offered on Tuesday, May 2nd at in St. Patrick's Church, followed by burial in Calvary Cemetery, Glenmont. In lieu of flowers, memorial donations to St. Patrick's Church, 21 Main Street, Ravena, NY 12143 will be appreciated. Arrangements by A.J. Cunningham Funeral Home, Ravena. Condolence page is available at ajcunninghamfh.com.