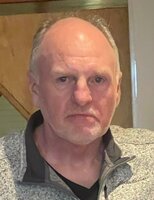 Matthew L. Rice
GREENVILLE - Matthew Rice, 60, passed away peacefully with his loving wife by his side at the Community Hospice at St. Peter's on Sunday February 12, 2023. He was born on December 22, 1962 in Catskill to Edith Ford Rice and the late Ronald F. Rice. Raised in Coxsackie, he graduated from Coxsackie Athens Central School in 1981 and then joined the Navy. He was honorably discharged in 1987. Matthew was a loader operator for Peckham Materials Plant, and was a member of the Local 158 Operating Engineers. He enjoyed fishing, hunting, golfing, being outdoors, and especially spending time with his grandchildren.
Matthew is survived by his beloved wife of 40 years, Adessa Rarick Rice; daughter, LeAnne (Matthew) Matice; son, Matthew (Jennie Anne) Rice; grandchildren, Kourney, Hailey, Kylie, and Hunter; mother, Edith Rice; sisters, Kathy (Don) Rivenburgh and Cindy (Jimmy) McPartland; brother, Ronald (Rose) Rice; and many nieces and nephews.
Matthew has been privately cremated. A graveside service with military honors will be held on Saturday February 18th at 11am at the Chestnut Lawn Cemetery, Route 9W, New Baltimore. The family would like to give a special thanks for all the love and support from the staff of the Community Hospice Inn at St. Peter's Hospital during this difficult time. In lieu of flowers, donations can be made to the St. Peter's Community Hospice Inn, 315 S. Manning Blvd, Albany, NY 12208. Condolences can be posted at ajcunninghamfh.com.