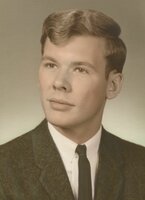 Alan C. Applebee
Applebee, Alan Curtis, Ph.D.
WESTERLO – Although most knew Alan from The Original Applebee's, Alan's real passion was teaching and coaching. The academic world is where he felt most comfortable. After receiving degrees from Colgate, Cortland, and Temple Universities, Alan taught and coached at several high schools, private schools, and later as a college professor at San Jose State University. Although an advocate for higher education, Alan realized that "higher education" was more often about supporting individual growth, whether it be emotional, financial, spiritual, or intellectual. A degree in life is often more important than a stamped piece of paper.
Alan was predeceased by his parents, Curtis and Ellen (Ingalls) Applebee, and his two American Staffordshire Terriers, Anisette and Miss Daisy. Alan leaves behind his constant companion and wife, Liddy Van Iderstine. Although their earthly journey together has ended this Wednesday, February 8, 2023, it will continue when they meet again at The Gates of the San Diego Zoo with Annie and Daisy in tow.
A special thank you to all that helped to make Alan's last days special. You Know Who You Are! Thank you to St. Peter's Hospital and Memorial Sloan Kettering Cancer Center for their thoughtful care.
Services will be private as per Alan's wishes. In lieu of flowers, you may donate locally to the Westerlo Fire Company or the Dormansville United Methodist Church. Please donate your time and energy to help others. It is our most valued resource.
Condolence page is available at ajcunninghamfh.com.