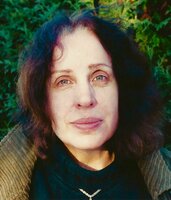 Marguerite H. Hanson
Marguerite "Peggy" Hanson
LOUDONVILLE – Marguerite "Peggy" Hanson, 76, died on Wednesday, February 1, 2023 at Loudonville Assisted Living Residence. She called the Albany County village of Rensselaerville home from 1985 until she was diagnosed with Alzheimer's-type dementia in 2018.
Born Marguerite Kay Hizar on September 14, 1946, and raised in the Detroit suburb of Birmingham, Peggy studied at the Cranbrook Academy of Art, Michigan State University, and the Universidad de Mexico. From 1966 to 1980, she was married to fellow Michigan native David Hanson, who died in 2014. The marriage produced two children, Andy Hanson, now of Farmland, Indiana, and Peter Hanson, now of Los Angeles. It was during the marriage that the family moved from Michigan to the Capital District.
Following her divorce, Peggy worked as a graphic designer, illustrator, and marketing executive. Among her notable local clients were the Barnsider restaurant, SUNY Press, and United Way of Northeastern New York. Subsequent to her art career, Peggy was a professional Tarot reader before transitioning to her final career as a gem and mineral dealer. For more than 20 years, she traveled to shows across the country, selling merchandise including gemstones and jewelry.
Her pastimes included antiquing, baking, nature hiking, needlepoint, painting, playing piano, and reading novels. Friends in Rensselaerville knew her as a devoted caretaker to the many cats and dogs she owned over the years.
Per the deceased's wishes, there will be no formal ceremony or interment. In lieu of flowers, donations to local animal sanctuaries or to the Rensselaerville Historical Society are welcomed. Those wishing to send condolences can contact her son Peter (Peter@GrandRiverFilms.com), or visit ajcunninghamfh.com.