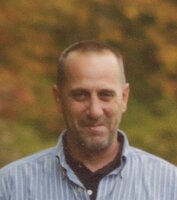 Chad Everett Hallenbeck
EAST DURHAM – Chad Everett Hallenbeck, 49, died suddenly early Wednesday morning, November 9, 2022 of injuries sustained in an auto-pedestrian accident.
Chad was born in Catskill on April 25, 1973. He was raised in Preston Hollow and graduated from Middleburgh Central School. He was employed as a truck driver and heavy equipment operator. Chad enjoyed hunting, being a "shade tree mechanic", and family gatherings.
Chad is survived by his fiancée of eight years, Alicia Sheehy; his children, Jacob Marsh, Matthew Hallenbeck (Morgan), Meghan Hallenbeck, Mikaela Hallenbeck, Richard Crianza III, Dominique Crianza, Cheyenne Hallenbeck, Chad Hallenbeck Jr., and Landon Hallenbeck; his parents, Glenn and Diane Hallenbeck; his siblings, Terry Mataraza (Steve) and Troy Hallenbeck (Leslie); many nieces and nephews.
Chad has been cremated privately. Memorial calling hours will be on Friday, November 18th from to at A.J. Cunningham Funeral Home, 4898 State Route 81, Greenville. In lieu of flowers, memorial donations to the Sheehy-Hallenbeck campaign at freefunder.com will be greatly appreciated. Condolence page is available at ajcunninghamfh.com.