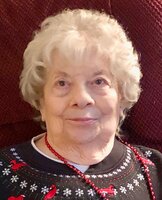 Antoinette M. Breitenbach
WESTERLO - Antoinette Marie Breitenbach passed away on November 6, 2022 at the Hospice Inpatient Unit at St. Peter's Hospital, Albany, New York. Antoinette, Ann, (Nettie as she was known growing up) was born in 1930, at the family home in Queens, New York, the daughter of the late Joseph and Theresa Reibaldi. She was married in 1950 to Matthew L. Breitenbach. Ann was a loving mother, grandmother and great-grandmother who had a playful, happy nature. She had a wonderful sense of humor. She loved to talk and reminisce about her family in Queens, and share stories of her family. She was thoughtful, intelligent, a devoted wife and mother, and had a talent for doing anything and everything she needed to do to take care of the family. She could also, however, show her temper when pushed too far. She was a wonderful cook and came from sturdy Italian stock. She was successful at everything she chose to do. After marriage, she left her New York City family to move to upstate New York to follow the dreams of her husband. At various times Ann was a farmer, ran the family owned Greenville Corner Restaurant, and in her "spare time" was a Cub Scout Den mother, a member of the Women's Auxiliary of the Westerlo Volunteer Fire Department, and a medical billing clerk at Albany Medical College. When her husband Matt became blind at age 35, she was his source of support and strength.

She is survived by son, Matthew (Terry), daughter Diane (Wayne); four grandchildren, Mark, Mandy, Brenna, and Janelle; eight great-grandchildren, Miles, Dashiel, Chase and Fidelis; Max and Alex; and Carmela and Cecilia; sister-in-law Louella, nieces, Nobalee and Nadine; nephew, Wayne; and numerous cousins.
Ann's family would like to extend special thanks to the wonderful, loving care-givers at the Loudonville Assisted Living Residence, and St. Peter's Hospital (SPH) Inpatient Hospice Unit. They made her comfortable and peaceful, and helped all of us as we watched mom pass through her transitions through the final days of her life.
Calling hours will be Thursday, November 10th from to at the A. J. Cunningham Funeral Home, 4898 State Route 81, Greenville. Funeral Mass will be Friday, November 11th at at St. John the Baptist Church, 4987 State Route 81, Greenville, followed by burial in Greenville Cemetery. Please, we ask that in lieu of flowers, please send donations to SPH Inpatient Hospice Unit, 315 S. Manning Blvd, Albany New York 12208 or Loudonville Assisted Living at 298 Albany Shaker Road, Loudonville, NY 12211. Condolences can be posted at ajcunninghamfh.com.