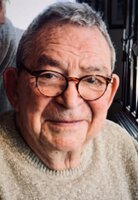 Kurt A. Kent, Jr.
Kurt A. Kent Jr, 92, of Rensselaer, New York, passed away on November 5, 2022, at home, surrounded by his loving family, after a long and courageous fight with Parkinson's.
Kurt was born on July 9, 1930, to Kurt Kent Sr. and Marie (Berge) Kent in the Bronx, NY. Kurt graduated from DeWitt Clinton High School, and went to school at night at Community College of New York, to earn his Bachelor's Degree in Business, while working full-time. Kurt served in the United States Navy during the Korean War and continued to support those who served as a member of the American Legion in Delmar, NY.
Upon his discharge from the Navy, Kurt had a long and successful career with Mobil Oil as a sales representative and territory manager, for 30 years. In 1974, Kurt and his wife, Irene, purchased Colonial Manor, in Greenville, NY, a summer resort. The Kent Family owned & operated Colonial Manor for fifteen years, where they raised their children and built a multitude of friendships that lasted decades.
Kurt is predeceased by his wife, Irene A. (Garner) Kent, whom he was married to for 38 years and his great grandson, Garner Furman. He is survived by his four daughters, Susan M. May, Catherine A. Pazin, Linda I. Farinha and Kristine D. Bourque as well as son-in-laws Konrad May, Nolan Pazin, Antonio Farinha and Chris Bourque. In addition, Kurt is survived by his significant other, Florence Iwaniec, of 28 years, who loved and cared for him until his passing. Both Florence and Kurt celebrated the love of their extended & blended families, Michael Iwaniec, Robert & Diane Iwaniec, Joseph & Nicole Iwaniec and Lisa Iwaniec. Together, Kurt and Florence celebrated the births and accomplishments of many grandchildren and great grandchildren and were very active in their lives. Grandchildren: Krista May, Allison Curless, Kelly (& Mark) Case, Terri Lynn (& Chris) Magazu, TJ (& Courtney) Farinha, Gabriella Farinha, Delaney Farinha, Ashley Bourque, Evan Bourque, Robert Iwaniec, Jenna (& Sean) Cunningham, Nicholas Iwaniec , Allie Iwaniec, Jared Iwaniec, Ethan Iwaniec, Stephen Littell, Statia Andrews. Great-grandchildren: Nathan Magazu, Ja'Dire May, Boden Furman, Maycie Case, Isla Farinha, Emma Cunningham and Olivia Cunningham.
Although a prankster in his younger years, Kurt was also a sentimental man who wrote letters to his children and shared stories of generations past, anchoring us to our family heritage. Kurt was and always will be THE best Jet fan, a season ticket holder for many years, he continued to root for a return to the Superbowl since 1969. Since his retirement, Kurt and Florence traveled to Germany, Alaska, cruises and islands. He also enjoyed many family vacations to Cape Cod, Florida, the Carolinas, Maine and many others.
Kurt was a firm believer in giving back to those in need, donating blood to the American Red Cross for over 50 years, involvement in his church, raising funds for breast cancer and volunteering at St. Peter's Hospital. At the hospital, he would wheel discharged patients to their loved ones waiting to bring them home. He purchased a bag of bells, bestowing one on each patient and reminding them to "just ring" if they needed anything. Kurt spent his life helping and guiding others, the perpetual planner who was always one step ahead willing to lend a hand or advice. His legacy lives on through each person who had the honor of knowing him.
Per Kurt's wishes, the family will have a small private graveside service, with a celebration of life scheduled for the spring of 2023, when Kurt's zest for life can be remembered by all. In lieu of flowers, the family requests donations be made to the Blanchard-Curry American Legion in Delmar, NY or the Community Hospice of Rensselaer County, who supported Kurt throughout his illness.