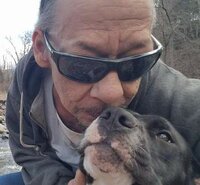 Christopher K. Fritz
CONESVILLE – Christopher K. Fritz, 57, passed away peacefully at home on Friday November 4, 2022. He was born in Omaha, Nebraska on August 31, 1965 to the late Neil and Regina Fritz. Due to his father being in the service, Chris grew up in various places, and resided in Florida and Buffalo, NY. Chris worked as a machinist in his father's metal fabrication shop, Inner Coastal Manufacture in Clearwater, FL. He enjoyed wood working and loved to go camping. Nature and his dog, Little Girl, were his happy place. In addition to his parents, he was predeceased by his brother, Richard Fritz, his sister, Debrah Fritz, and his nephew, Ronnie Bartley.
Chris is survived by his brother, Neil Fritz of Florida; his wife, Helen Fritz; his daughter, Megan Fritz (Toby); his son, Josh Fritz (Becka); his nieces, Heather Bartley and Sunshine Fritz; his grandchildren, Haley and Skyler Fritz; his long time partner, Suzanne Sanford, and their grandkids, Amelia and Otis Bova.
As per his wishes, Chris has been privately cremated. Memorial donations can be made to Josh Fritz c/o A.J. Cunningham Funeral Home, PO Box 146, Greenville, NY 12083 to help with funeral expenses. Arrangements by A.J. Cunningham Funeral Home, Greenville. Condolences can be posted at ajcunninghamfh.com.