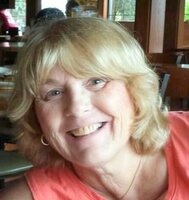 Sharon A. Vaughn
ATHENS - Sharon Ann (Armstrong) Vaughn, 68, passed away peacefully at her home on Friday, November 4, 2022. Born July 25, 1954 to Edmund Armstrong and the late Louise (Holdridge) Armstrong, she was raised on the family farm in Cornwallville, where she attended Cairo High School. Graduating in 1972, she moved to Travis AFB, CA and Vacaville, CA, before returning to Cornwallville and eventually settling in Athens, NY. She worked as a secretary for Golden West Middle School in Fairfield, CA, as well as the Cairo-Durham Middle and High School in Cairo until her retirement. Sharon was a volunteer for the Community Hospice and she loved to spend time antiquing, gardening, refurbishing furniture, and most importantly, doting on her grandchildren and spending time with her family and friends.
Sharon is survived by her children, Jamie Vaughn (Karin), Jeffrey Vaughn (Kim), and Eric Vaughn; her grandchildren, Kayla Johnson (Caleb), Tyler Vaughn, Austin Vaughn (Kelsie), Haley Vaughn, Ashley Vaughn, and Jason Vaughn; her great-grandchildren, Josie Johnson, Bexton Vaughn, and Aloura Vaughn-Morton; her siblings, Ronald Armstrong (Dawn), John Armstrong (Adnan), Leslie Armstrong, Melinda Hawks (Bruce), and Raymond Armstrong; her father, Edmund Armstrong (Janet); along with numerous aunts, uncles, cousins, nieces, nephews and her unofficially adopted son, Ricardo Bonacic.
Sharon was a warm, caring, and compassionate person who loved her family and friends deeply. Over the years she made a positive impact on thousands of middle and high school students' lives. She always took genuine interest in knowing the people she met and was always generous with her time and resources. She loved the quote; "Live Well, Love Much, Laugh Often" and followed its direction every day of her life, Sharon was loved by many and will be missed by all.
As per her wishes, Sharon has been privately cremated. Memorial calling hours will be held on Monday, November 14th from to at A.J. Cunningham Funeral Home, 4898 State Route 81, Greenville, followed by a memorial service at . In lieu of flowers donations can be made to The Memorial Sloan Kettering Cancer Center at giving.mskcc.org . Condolences can be posted at ajcunninghamfh.com.