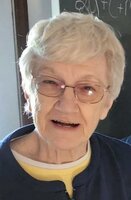 Joanne M. Raffiani
RAVENA – Joanne M. Raffiani, 80, passed away peacefully in her sleep on Thursday, November 3, 2022.
Joanne Marie O'Neill was born in Albany on June 14, 1942, a daughter of the late Martin and Arline Laney O'Neill. Joanne was a lifelong resident of Ravena. She graduated from the former Cardinal McCloskey High School in Albany. In her younger years, Joanne worked at the former Mayone's Market in Ravena. She then enjoyed a career as a resident counselor with New Visions (formerly Hillside House), a residence for developmentally disabled adults in Coeymans, where she treated the residents like family. Joanne was a communicant of St. Patrick's Church in Ravena, and a member of Senior Projects of Ravena. She will be remembered as a kind and generous woman who donated to many causes.
Joanne is survived by her daughter, Lori (Joseph) Kozlowski of Albany; four grandchildren, Shawn Roy, Christopher and Tyler Kozlowski, and Morgan Raffiani; her siblings, Eileen (Roger) Hallenbeck, Rev. James O'Neill, and Sharon (William) Miller; many nieces and nephews. In addition to her parents, Joanne was predeceased by her husband, Philippe Raffiani; her son, Kevin F. Raffiani; and her siblings, Thomas J. O'Neill, Mary Ann Jones, Maureen Farinelli, and Kathleen Conrad.
Calling hours will be Tuesday, November 8th from 9 until at St. Patrick's Church, 21 Main Street, Ravena. Funeral Mass will be offered at , followed by burial in St. Patrick's Cemetery, Coeymans. In lieu of flowers, memorial donations to Senior Projects of Ravena, 9 Bruno Blvd., or to St. Patrick's Church, 21 Main Street, both in Ravena, NY 12143 will be appreciated. Condolence page is available at ajcunninghamfh.com.