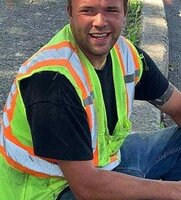 Taylor R. Burtt
DELANSON – Taylor Richard Burtt, 23, passed away on Saturday October 29, 2022. Also known by friends and family as Tay-Tay, Tay, and Dinger, Taylor was born on March 25, 1999 at Bellevue Hospital in Niskayuna to his proud parents, Tiffany Leigh Russo and Joshua Charles Burtt. He began life in Duanesburg, and years later, he also grew up in Earlton and Voorheesville. Taylor attended Duanesburg Elementary, Coxsackie-Athens, and Greenville CSD before graduating in 2017 from Clayton A. Bouton High School in Voorheesville. He worked for Jonathans, Smitty's and Ducommun, and most of Taylor's employment was with Callanan, where he spent much of his days working alongside his work family. Taylor enjoyed golf, vacationing in OBX, fishing, music, playing guitar, splitting wood, loving his fur baby, Lars, and mostly being there for and helping others.
Taylor lived his life in life and love, never without a smirk on his face. After one meeting with him, you knew what it meant to be humble. You knew how it felt to be genuine, and you walked away reassured that there are in fact beautiful people in this world. Taylor was and always will be loved by so many... friends, family, co-workers, or just someone passing by. He possessed the ability to see the good in everyone. He always took the best part of them and always found a way to instill those qualities in himself. Four lucky people now have a piece of Taylor inside of them due to his gift and donation of life. We pray that these people carry on Taylor's legacy of love. To our Taylor Richard Burtt, our son, our grandson, our big brother, our nephew, our cousin, our friend, and our old soul: fly high, spread your wings, and know that this world was blessed to have you in it. We love you forever and for always.
Taylor was predeceased by Carl O. and Marjorie J. Peterson (Granny & Pa), Aunt Tina Russo-Desnoyers, Uncle Robbie Desnoyers, and Bev Feehan (Noni).
Taylor is survived by his mom, Tiffany Russo; dad, Joshua Burtt; siblings, Katelyn Burtt, Gabriel Pino, Sierra Swartout, Madison Swartout; step-mom, Karie Burtt; step-dad, Pete Clear; grandparents, Rick and Donna Russo, Jeff and Marcia Proper, Charles Burtt; aunts, Annie Burtt, Becky Schweigard, Tezera Hanselman, Laura Russo, Maribel Peterson, Stefanie Ryan, Kelley Feehan, and Erin Feehan; uncles, Justin Peterson, Frank Santo, Edward Schweigard, Guy Hanselman, Kyle Burtt, Kevin Burtt, Phil Ryan, Tim Hoovler, Matthew Hoffmann, and William Hoffmann; and cousins, Jacob Schweigard, Greta Schweigard, Lance Hoovler, Joshua Pulice, Morgan Desnoyers, Austin Desnoyers, Amanda Roberts, Christopher Russo, Ashley Wixon, Brianna Peterson, Ariana Peterson, Pip Ryan, Michaela Ryan, Charles Ryan, Morgan Feehan, Kassidy Feehan, Maddie Feehan, Megan Feehan, and Emma Feehan.
Calling hours will be held on Friday November 11th from 5 to 8pm at the A.J. Cunningham Funeral Home, 4898 State Route 81, Greenville. On Saturday November 12th, everyone will meet at the funeral home at 10am to drive to Grove Cemetery in Delanson for burial. After the burial a celebration of life will be held at Maple On The Lake in Berne. In lieu of flowers, donations can be made to the Taylor Richard Burtt Scholarship Fund, organized by Tezera and Guy Hanselman: checks made out to Guy Hanselman with memo "Taylor Richard Burtt Scholarship Fund", envelopes will be available at the funeral home and a venmo will also be made available. Condolences can be posted at ajcunninghamfh.com.