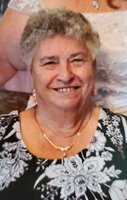 Janet M. Bates
RENSSELAERVILLE – Janet M. Bates, 82, passed away peacefully at home on Sunday October 30, 2022. She was born on November 15, 1939 in Medusa to the late Loren and Nellie Case Winn. Janet worked various jobs, including as a cashier at Ames, Cumberland Farms, and Tops, a piece worker at the rope factory and Becker Electronics, a poodle groomer at Loving Care Grooming, and a healthcare aide for Greene County Home. She was a loving person who had a lot of grit. She loved her dogs, who she considered her kids, since she had no children of her own. Her favorite holiday was Halloween: people came from all over to see her costumes and decorations each year. Janet and her husband, the late Chester "Chet" Bates, were members of a CB Club, her handle was "Tiny". In addition to her parents and husband, she was predeceased by her brother, Roger Winn.
Janet is survived by her sister, Lorrine Helmedach, with whom she resided for the past 20 years; her sister Bernice Lee; and many nieces, nephews, great nieces and nephews, great-great nieces and nephews – who she considered as her own children and many of whom she babysat.
Janet has been privately cremated. Calling hours will be held on Friday November 4th from to at the A.J. Cunningham Funeral Home, 4898 State Route 81, Greenville. A memorial service will be held on Saturday November 5th at at the funeral home, followed by burial in Potter Hollow Rural Cemetery. In lieu of flowers, donations can be made to the Northeast Kidney Foundation, 22 Colvin Avenue, Albany, NY 12206. Condolences can be posted at ajcunninghamfh.com.