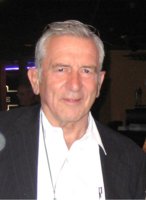 Jost Nickelsberg
Jost Nickelsberg, 80, passed away peacefully on Tuesday, October 25, 2022, at his home in Medusa, New York. He had been battling Parkinson's disease for many years. Born during World War ll in Berlin, Germany, Jost came to the United States in 1948 with his mother, Jenny Meyer, and adoptive father, Harold Nickelsberg, where they settled in New Jersey. He was a 3-sport athlete and president of his senior class at Midland Park High School and attended Denison University in Granville, Ohio, where he played varsity baseball for 3-years and received a B.A. in 1965.
Jost lived in Bedford, NY and worked for many years on Wall Street in institutional finance for JP Morgan Chase, Smith Barney and Martin Simpson & Company before he joined First Albany Corp and settled in Medusa, New York with his wife, Ellen Worcester Nickelsberg, in 1996. From 2008 to 2011, Jost served as the elected Supervisor of the Town of Rensselaerville, NY.
His wife, Ellen Worcester Nickelsberg of Medusa, NY, a brother Robert Nickelsberg of Brooklyn, NY, a cousin Anka Meyer of San Francisco, CA and a half-sister, Jutta Shenkl in Germany, survives him.
A visitation will be held Saturday, November 12, from to at the A.J. Cunningham Funeral Home, 4898 State Route 81, Greenville. Jost will be laid to rest at Valleau Cemetery in Ridgewood, New Jersey at a later date.
In lieu of flowers, the family would be grateful for contributions to go to The Parkinson's Foundation or to a charity of their choice.