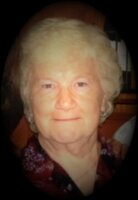 Mary Ann Jones
RAVENA – Mary Ann Jones, 88, passed away peacefully on Wednesday, October 19, 2022 at her daughter's residence with family at her side.
Mary Ann was born in Lancaster, NY on March 20, 1934, a daughter of the late Martin and Arline Laney O'Neill. The family moved to Ravena when Mary Ann was 8 years old. Mary Ann married the love of her life, Raymond L. Jones on May 24, 1952. They settled in Coeymans Hollow and raised their family. She was a long-time communicant of St. Patrick's Church and a member for many years of Senior Projects of Ravena. She enjoyed bowling for many years, and getting together with her girlfriends to play cards and board games.
Mary Ann is survived by her seven children, Donna (Bill) Slingerland of Virginia Beach, VA, Gary (Peg) Jones of Myrtle Beach, SC, Linda (Monte) Klob of Greenville, Dennis (Kathy) Jones of Ravena, Sue (Dan) Flannery of Greenville, Shari (Ben) Underwood of Freehold, and Michael (Sheila) Jones of Selkirk; 20 grandchildren, 35 great-grandchildren, 1 great-great-grandchild; her siblings, Eileen Hallenbeck, Father James O'Neill, Joanne Raffiani, and Sharon Miller; many nieces and nephews. In addition to her parents, Mary Ann was predeceased by her husband of 54 years, Ray; and her siblings, Kathleen Conrad, Thomas O'Neill, and Maureen Farinelli.
Calling hours will be Monday, October 24th from 9 until in St. Patrick's Church, 21 Main Street, Ravena. Funeral Mass will be offered at , followed by entombment in St. Patrick's Mausoleum, Coeymans. In lieu of flowers, memorial donations to Senior Projects of Ravena, 9 Bruno Blvd., Ravena, NY 12143 will be appreciated. Condolence page is available at ajcunninghamfh.com.