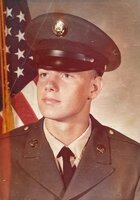 Steven R. Romanowski
BERNE - Steven R. Romanowski, 64, passed away suddenly at home on Tuesday October 4, 2022. He was born on August 23, 1958 in Amityville, NY to the late Edward and Edna Romanowski. He was raised in West Babylon, NY and was a graduate of West Babylon High School. He entered the Army in 1976, where he served in Company B, 2/21st infantry out of Fort Stewart, GA, and also served in the 82nd Airborne Ranger Battalion. He was Honorably Discharged in 1980, after earning the Army Achievement Medal while he served in the Company A 2nd Battalion 108th Infantry. He then was a member of the NY Army National Guard. Steven worked as a union glazier in the International Painters and Allied Trades for many years. He was a well respected member of the DC9 Local Union 201 where he was also a teacher and mentor to many. Steven was a dedicated husband, father, and grandfather, and enjoyed fishing, camping, and traveling. In addition to his parents, he was predeceased by his brother, John Romanowski.
Steven is survived by his beloved wife and high school sweetheart, AnnaMarie Romanowski; his three daughters, Samantha, Nicole, and Elizabeth; his two grandsons, Trevor and Cooper Meehan; his 6 brothers and sisters, Thomas Masterson, Vicki Lundegaard, Mary Romanowski, Ann Romanowski, Teresa Carroll, and Paul Romanowski; his in-laws, John and Helen Battista; and numerous nieces, nephews, and extended family.
Calling hours will be held on Tuesday October 11th from to at the A.J. Cunningham Funeral Home, 4898 State Route 81, Greenville. Inurnment with Military Honors will be held on Monday, October 17th at at Calverton National Cemetery on Long Island. In lieu of flowers, donations can be made to the Wounded Warrior Project, P.O. Box 758516, Topeka, Kansas 66675-8516. Condolences can be posted at ajcunninghamfh.com.