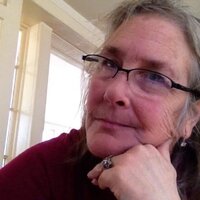 Cherie D. Ringwald
Cherie (Richardson) Ringwald, 67, of Greenville, New York passed away unexpectedly on October 3, 2022.
Born in 1955 in Corona, California, Cherie graduated from Corona High School in 1973 before attending Long Beach College to pursue her dream of becoming a nurse. She worked for the Veterans Administration and the Visiting Nurses Association of California for several years before hanging up her stethoscope and jumping on the tech bandwagon to sell Apple computers. Cherie went on to work as a Publishing Specialist and Computer Trainer in the Graphic Arts Department at Parsons Engineering in Pasadena before operating a dog kennel in Rialto for several years, and later retiring to Greenville, NY. While she missed her friends and family in California, and sincerely despised contesting with "evil snow," she greatly enjoyed the slower pace of life in the Northeast, the colorful fall leaves and listening to the sound of "Grammy's river" behind her house.
Cherie said her final "toodles" to this world and was welcomed to the hereafter by her parents, James and Nancy (Bronson) Richardson, her "partner in crime," Mario Canchola, and far too many deeply beloved pets. She is survived by her two daughters Aimee Robichaud (Noel Allaud) and Giselle (Marvin) Childress; her three grandsons William and Matthew Robichaud, and Jaxon Childress; many cousins; and an abundance of dear friends.
Known as Miss Cherie to most, "The notorious Grammy" lived a life unabashed, never hesitated to speak her mind, and refused to compromise on her beliefs. She will be remembered for her satirical sense of humor, her quick wit, her skills on the piano, and above all, her deep love of animals. She never failed to take the time to stop and talk to a dog she met while out in public.
Cherie loved "cooking for an army", especially Mexican cuisine, and is personally responsible for developing her middle grandson's discerning palate. She enjoyed discovering a wide range of music available online, spending time reconnecting with old friends on Facebook, and making new ones from faraway shores. She was involved in multiple groups and greatly enjoyed being an administrator for a Facebook group dedicated to the German Shepherd dog breed.
Cherie was one of the few people in this world who equally enjoyed reading old English literature, flipping through the Far Side calendar, and binge-watching zombie horror movies. She adored the Halloween season and, if she were here, would probably have a good "witch cackle" about passing away during her favorite month of the year. We are certain she is displeased to have missed this Halloween.
Although she was very clear that she did not want a formal funeral because she felt "they are a waste of good money," Cherie's daughters decided to spring for an urn. Her family will welcome visitors to gather casually in her memory at her eldest daughter's home in Greenville, NY on Saturday, November 5th. A larger memorial celebration of Cherie's life will be held at a later date in California.
Arrangements by A.J. Cunningham Funeral Home, Greenville. To leave a message of condolence for Cherie's family, visit www.ajcunninghamfh.com.
View Cherie's Memorial Slideshow on YouTube at: https://youtu.be/UqT5z0Yu3e0