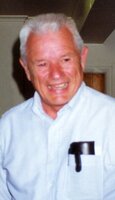 William J. "Bill" Von Atzingen
GREENVILLE – William John "Bill" Von Atzingen, 88, passed away peacefully at home on Sunday September 11, 2022 surrounded by his family. He was born on December 14, 1933 in Jersey City, NJ to the late William Joseph and Edna Mae Heim Von Atzingen. Bill was raised in Jersey City and after graduating from Dickinson High School, he attended SUNY Cobleskill in 1954. He joined the Army in January of 1955 and was Honorably Discharged in December of 1956. Bill worked with his dad at Atzingen Whitehouse Dairy in Jersey City, and after moving to Greenville, he worked as the postmaster for two years, owned and operated Von's Department Store for 27 years, and was a partner in STG with his friends, Zan Bryant and George Jones. Bill served on the advisory boards of Norstar Bank, National Bank of Coxsackie, Pioneer Insurance Company, and Stiefel Research. He was a life member of the Greenville Rotary Club (61 years), a member of the Greenville Volunteer Fire Company, the Greenville Rescue Squad, and of the Greenville-Norton Hill United Methodist Church. He was a member of the Greenville Chamber of Commerce, the PTA, chairman of the Red Cross Blood Mobile for ten years, and coached Little League and Babe Ruth. Bill enjoyed golfing, skiing, baseball, bowling, poker/cards, croquet, and was an avid sports fan: a life long Dodgers and NY Giants fan. In addition to his parents, and his step-mother, Louise Catherine Schmedes Von Atzingen, he is predeceased by his sister, Jeanette, and brother-in-law, Ed Glynn.
Bill is survived by his beloved wife of 67 years, Susan B. Anthony "Sue" Von Atzingen; his children, William Von Atzingen (Deb), LuAnn Quackenbush (Mark), Lori Von Atzingen (John); and his grandchildren, Jeffrey Quackenbush, Martina Ferro, and Will Von Atzingen.
As per his wishes, Bill has been privately cremated. Bill will be interred on Sunday September 18th at in the Greenville Cemetery, State Route 32, Greenville, with a graveside memorial service for friends and family. In lieu of flowers, memorial donations to the Greenville Rotary Club, P.O. Box 591, Greenville, NY 12083 will be appreciated. Condolences can be posted at ajcunninghamfh.com.