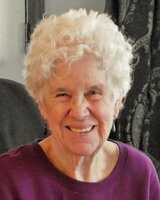 Mary E. Butler
GREENVILLE - Mary Elizabeth Butler, age 86, passed away peacefully on Wednesday, September 7, 2022 and is now with her loving husband and family members. Mary was born in the town of Mohill in County Leitrim, Ireland to the late John and Ellie Ward, the 2nd of eight children.
Mary came to New York City in the 1950's where she met the love of her life, John Butler. They both worked for New York Telephone for many years. Together they raised 4 children in the Irish neighborhood of Inwood in upper Manhattan and were longtime parishioners at Good Shepherd Church. During this time Mary led many weekly excursions to Inwood Park where all the many cousins established the bonds that keep them close to this day.
When Mary moved to the Catskills about 20 years ago, she was able to grow her love of gardening and she spent many hours taking care of her plants and shrubs. Mary also loved to cook and bake, and the Holiday dinners at her house were loved by all the cousins – and there would always be a warm plate for whoever showed up late.
Mary and John spent 61 wonderful years together until John's passing in 2020. They are survived by their children Maureen, Johnny and his wife Sharon, Kevin and his wife Theresa, Patrick and his wife Lydia, their 10 wonderful grandchildren, and many brothers, sisters, nephews and nieces.
Relatives and friends may call at the A.J. Cunningham Funeral Home in Greenville on Tuesday September 13th from 4 to 6pm. Funeral Mass will be offered at St. John the Baptist Church in Greenville on Wednesday September 14th at 11am, followed by burial in Greenville Cemetery. In lieu of flowers, donations can be made to the Arthritis Foundation, P.O. Box 96280, Washington, DC 20077.