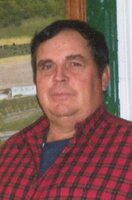 William D. Schnare
William "Bill" D. Schnare passed away peacefully at Albany Medical Center on Monday August 22, 2022 after a courageous 3 year battle with cancer, he was 69. Bill was predeceased by his parents, Alfred and Olive (Kellam) Schnare.
Bill joined the Earlton Fire Company at age 16 and for 30 years he served the community as a Firefighter. He often shared many stories of the fires he helped fight, the homes he helped save, and the good times and camaraderie he endured during that time.
During his younger years, Bill co-owned the Schnare's Sunset Orchard and worked the farm for most of his life. His passion was farming and he loved growing all sorts of fruits and vegetables. His biggest joy while working the farm stand was the people: he enjoyed all of the conversations he had with others about the apples, cider, and donuts; all things that are missed. Before retiring in 2015 from the Coxsackie Prison, Bill worked for Matter Contracting for 30 years. He made a career out of every job he held.
Bill leaves behind the love of his life, Susanna Schnare; as well as his sons, Darren and Gregory Schnare; daughter, Jessica (Shawn) Brundage; his grandchildren, Morgan and Connor; his brother, Al Schnare; and sister, Rosemary Valk.
Bill was a good man with a big heart, and he always told a good joke that could make anyone laugh. He never lost a hand of cards, or any other game he played. He said he was lucky that way, but we were the lucky ones to have known and loved him.
A public celebration of Bill's life will be held on Sunday, August 28 from at the Earlton Fire House, 1567 State Route 81,
Earlton ,refreshments will be served. A private graveside interment will be held at a later date.
In lieu of flowers donations can be made to the Earlton Fire Company, 1567 State Route 81, Earlton NY 12058 or the American Cancer Society, P.O. Box 6704, Hagerstown, MD 21741. Condolence page is available at ajcunninghamfh.com.