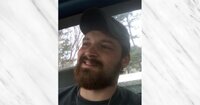 Lukas Michael Welsch

Lukas Michael Welsch, 29, of Ware Shoals SC entered eternal rest on Saturday July 16, 2022. Born in Niskayuna New York he was a son of Bernadine Stanton Peyton and the late Harold A. Welsch.
He was a graduate of Ware Shoals High School. His greatest goal in life was to make people laugh and raise his two sons. He was a devoted father, son and friend. Lukas" unyielding love for life, to have fun and make people laugh, is only surpassed by his great and unwavering love for his family and friends who he loved ferociously. His infectious smile and ability to light up a room was a gift he inherited from his dad.
Lukas had a passion for trucks (Ford's), motorcycles I'm working on, any junk. And making them work. Another gift from his dad. He will be deeply missed by so many.
Hear the wind and listen, feel the wind, and know I am with you!
Surviving are his mother and stepfather Bernadine and Michael Payton; his maternal grandmother Nadine S Stanton; his girlfriend and mother to his children Kala McClinton; two sons Christopher Harold Welsch and Dawson T Welsch; three brothers Jacob W Welsch (Heidi),Jason M Payton (Erika), Joseph A Rogers (Gabriele); a sister Stacey Jones; several aunts and uncles Mabel Welsch, Edward Welsch, James (Tiger) Welsch, Charles (Dusty) Welsch, Janine Horan (Michael). Along with very dear and special friends Daqun Agnew and Chris Watts. Several cousins, nieces and nephews also survive.
He was pre-deceased by his father Harold A Welsch; sister Colleen M Rogers; grandmother Betha Zink and Papa Richard (Dick) Zink.
Funeral and burial services will be held Saturday, July 30 at at the Welsch Family Cemetery Miller Rd in Berne NY, at Lukas request to be laid to rest beside his father. Condolences can be posted at ajcunninghamfh.com.