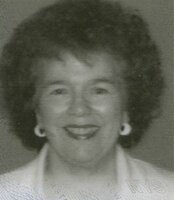 Clarice V. Walker
GREENVILLE – Clarice V. Walker, 95, passed away on Tuesday, July 12, 2022. Born at home in Norton Hill on October 18, 1926, she was a daughter of the late Morris and Nellie Palmer Huested. Clarice was a lifelong resident of Greenville. She graduated from Greenville Central School and Albany Business College. Clarice worked with her parents and sister in the family business, the former Huested's Hatchery in Norton Hill. After her marriage to Earl H. Walker, they ran a farm, and owned and operated the former Walker's True Value in Cairo. Clarice enjoyed spending time with her family, granddaughter and great-grandchildren.
Clarice is survived by her son, David E. Walker; her granddaughter, Kristie (Joseph) Neves; three great-granddaughters; niece, Cindy Overbaugh; and nephew, Mark Overbaugh. In addition to her parents and husband, she is predeceased by her sister, Dorothy Overbaugh.
A calling hour will take place on Monday, July 18th from 1 until at A.J. Cunningham Funeral Home, 4898 State Route 81, Greenville. A brief service will be offered at , followed by burial in Greenville Cemetery. In lieu of flowers, memorial donations to the charity of your choice would be appreciated. Condolence page is available at ajcunninghamfh.com.