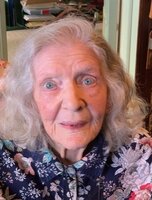 Ann T. Fedoryszyn
Ann Theresa Mulhare Fedoryszyn died on Thursday, July 7, 2022 at the age of 96 1/2, at the Community Hospice Inn at St. Peter's. Born in Brooklyn on December 28, 1925 during an auspicious winter storm, she often recalled how the doctor didn't want to come out in the weather to assist the midwife in her delivery, but her father walked to the doctor's house and was persuasive enough that the doctor arrived.

She was the daughter of the late Annie and Thomas Mulhare. She is predeceased by her elder sister, Mary Owens and her younger brother, Peter Mulhare, whom she was so very close to and who passed away last year. Marrying in 1947 to Edward Fedoryszyn, the couple migrated to Massapequa, Long Island and then to East Durham in 1967, where Ann spent 55 wonderful years. The seamless transition from city girl to country girl flowed with joy and ease. Together they raised 4 children, Edward (deceased), Dennis (deceased), Anne and Thomas.

During their first few years in East Durham, she and Ed purchased black angus and sheep to try their hand at farming. They soon realized how difficult the job was and decided to support their local farmers instead. In 1972, they opened their own business, Greene County Realty, and helped guide multitudes of home and property buyers to that special place suited just for them. Ann always wanted the property owner to know exactly what they were purchasing; she would walk all points of the property from survey stake to survey stake no matter how large the parcel, many times walking 100 acre farms. This endeared Ann to her clients, many of whom became good friends.

Ann was a religious woman who prayed daily for the living and the dead. If someone was sick, she immediately added them to her prayer list and continued to follow up to see how their health was improving. She was a supporter and cheerleader for her children, grandchildren, and great-grandchild. She was loving, a caring mother, a devoted friend and kind neighbor. Her children's friends would call needing help or a ride; no matter the weather or time of day Ann was ready to help.

Ann loved her family: her children, Anne Curry of Catskill, Thomas Fedoryszyn and his husband Mark Houle of Cornwallville; grandchildren, Evita (Bruce) Fedoryszyn Whittaker, Sean Curry, Leo (Jeremy) Sachs-Michaels; and great grand-daughter, Venus Sachs-Michaels. She loved and cherished numerous nieces and nephews, along with her and her husbands' extended families. Ann had many laughs and girl days with her friend Talara Casale.
Calling hours will be held on Monday July 11th from to at the A.J. Cunningham Funeral Home, 4898 State Route 81, Greenville. A Mass of Christian Burial will be held on Tuesday July 12th at at Our Lady of Knock Shrine, 2052 State Route 145, East Durham. Condolences can be posted at ajcunninghamfh.com.