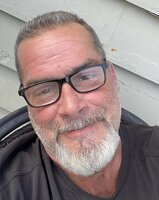 Fred Austin Dickens III
Fred Austin Dickens III
It is with great sadness we announce the passing of Fred Austin "Chip" Dickens III, aged 53, of Valatie New York. Austin was born in Ocean City, Maryland on October 13, 1968 to Fred Austin Dickens Jr. and Beverly A. Davidson. He passed away unexpectedly after a short illness, after taking a "turn for the worse" on June 30, 2022 at Albany Medical Center with the love of his life at his side, Kimberly.
He got the nickname "Chip" from his dad's friends in that they said he was a "Chip off the old block"! He was predeceased by his parents whom he missed tremendously as he gallantly was their caretaker when they were sick until each of their deaths. He was estranged from his siblings. His favorite saying was" Family isn't always blood. It's the people in your life who want you in theirs- the ones who accept you for who you are -the ones who would do anything to see you smile and love you no matter what".
Austin "Chip" leaves behind the love of his life, Kimberly, who will miss him tremendously and helped her work hard and would be so proud she graduated nursing school after his death, his beloved bunny, Jinx, and his wonderful neighbors who he thought of as his adopted "Mom & Dad" Sylvia and Bill McGarry and their daughter Karen. He adored Kimberly's children "PJ" and Veronica, whom he loved to tease and laugh, with having no children of his own. He left behind many great friends like Mike, Winn, Jimmy, Rob and Donny to name a few. He was a former NYS Department of Corrections officer. He loved vacationing in Ocean City, "biking" the country side and took great pride in his garden and canning his proceeds as well as cooking organically.
A memorial service for Austin will be held at the First Presbyterian Church in Valatie on Tuesday August 9th at 6 PM. A gathering of friends and fellowship with food will follow the service. In lieu of flowers, if so desired, please send a contribution in his name to the First Presbyterian Church, 3312 Church Street, Valatie NY 12184. "A heart is not judged by how much you love, but by how much you are loved by others" - Oz . Condolences can be posted at ajcunninghamfh.com.