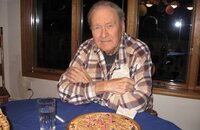 John W. Albers
John William Albers, Sr. of Greenville, New York passed away on
Wednesday, June 29, 2022 at Albany Medical Center. He was
born October 31, 1940 to Lucia (Hirsch) and William Albers in
Queens, N.Y. When John was 3 years old his parents moved from Queens to
settle in Potter Hollow, N.Y. His father started a small farm where
John learned the many chores of farming. At a young age his
grandfather from Germany, who had been a shipbuilder, gave him
a hammer and saw, and began tutoring him in woodcraft. He
attended Middleburgh Central School where his talent was
recognized by his shop teacher who labeled him "the best student
he ever had". In his senior year his family home burned down and
he singlehandedly built a new house for his mother. After graduating
from school he went to work as a carpenter and shortly after
started his own business. He had the ability to interpret the most
complicated blueprints and house designs and bring them to life.
John's unmatched old-world-craftsmanship and creativity was
always evident in his work. Not only could he build stunning
houses but beautiful, creative furniture, cabinetry, as well as
magnificent chess sets and tables. He was the Michelangelo of
wood.
John made decades-long lasting friends. Their loyalty and
support was cherished his entire life, and was a great comfort and
support to him in his later years. Their visits and many
discussions were an integral part of his life, providing great joy.
He married his high school sweetheart, Brigitte Olbert, in 1960
and they were blessed with two sons, John Albers II and Jeff Albers.
Both John and Jeff were blessed with their father's talent and
carry on the unique "John Albers Gift" of craftsmanship learned
from their father.
John was predeceased by his parents, his sister Diana Endsley
his granddaughter, Jasmine Albers, and grandson, Logan Albers.
John is survived by Brigitte, his loving wife of 62 years, his two
sons, John (Judy) Albers and Jeff (Linda) Albers, granddaughter,
Jenna Albers, grandson Austin Albers, as well as his sister-in-law
Irmgard Wogan.
Private graveside services will be held on Saturday, July 2nd.
Arrangements were made by A.J. Cunningham Funeral Home.