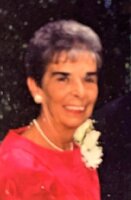 Katherine "Kay" Kilmer
RAVENA – Katherine Dempsey Kilmer, 87, known as "Kay" or "Katie", passed away on Sunday morning, June 26, 2022 at her residence.
Born in Troy on July 28, 1934, she was the only child of the late James and Helen Nicholson Dempsey, and wife of the late Russell G. Kilmer. Katie graduated from Troy High School, class of 1952. She worked for the New York State Senate as secretary to the late Majority Leader, Walter Mahoney. In the 1960's, she worked for the Republican State Committee. In 1976, Kay went to work for Conrail, retiring in 1994. Bored with retirement, she worked security at Albany International Airport before 9/11. Kay then found her real passion in the STAR Program at Pieter B. Coeymans Elementary School, helping first graders.
Devoted mother of John and Peter Kilmer, and Patricia (Ralph) Surrano; grandmother or "Nana" to her cherished grandchildren, Ralph Surrano III, Alexis Surrano, and Kaylee Noll; also survived by her cousin, Sue Layne; her niece, Judi Franken; and her beloved dog, "Mia".
The family offers a heartfelt thank you to the staff of Community Hospice, especially Leah and Michelle.
A calling hour will be held on Thursday, June 30 from 9 until in St. Patrick's Church, 21 Main Street, Ravena. Funeral Mass will be offered at , followed by burial in St. Patrick's Cemetery. In lieu of flowers, memorial donations to Peppertree Rescue, P.O. Box 2396, Albany, NY 12220-0396, or to Out of the Pits, P.O. Box 2311, Albany, NY 12220-0311 will be appreciated.
Arrangements by A.J. Cunningham Funeral Home, Ravena. Condolence page is available at ajcunninghamfh.com.