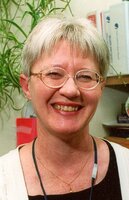 Laura J. Gardiner
WESTERLO – Laura J. Gardiner, 74, passed away peacefully on Monday June 20, 2022 at Our Lady of Mercy Life Center in Guilderland. She was born in Albany on March 11, 1948 to the late Ralph and Margaret Gardiner. A lifelong resident of Westerlo, she attended GCS, graduating in 1966, and SUNY Oneonta, graduating with her Bachelor's in 1971. Laura worked as a receptionist and supply manager for Albany Medical Center from 1972 to 2018. She was a member of Westerlo Baptist Church, and was a part of the choir there, was a Sunday school teacher, went on the mission trip to Venezuela and to New Orleans after Hurricane Katrina. Laura enjoyed puzzles, sewing, crocheting, baking (especially pies), and reading. In addition to her parents, she was predeceased by her sister-in-law, Linda Gardiner.
Laura is survived by her siblings, Donna, David (Elaine), Lawrence, and Susan Gardiner; nieces and nephews, Scott (Karen), Johnathan (Sarah), and Jeffrey Gardiner, Stephanie (T.J.) Johnstone, and Alison (Ken) Bersani; 12 grand-nieces and nephews; and 1 great-grandnephew.
Calling hours will be held on Thursday July 7th from 6 to 8pm at the A.J. Cunningham Funeral Home, 4898 State Route 81, Greenville, NY 12083. A funeral service will be held on Friday July 8th at 1pm at the First Baptist Church of Westerlo, 618 State Route 143, Westerlo, NY 12193, followed by burial in Westerlo Rural Cemetery. In lieu of flowers, donations can be made to the First Baptist Church of Westerlo, PO Box 130, Westerlo, NY 12193, for the mission's fund. Condolences can be posted at ajcunninghamfh.com.