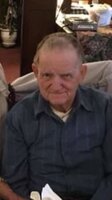 Manfred J. Geldner
MEDUSA – Manfred J. Geldner, 83, passed away on Monday morning, June 20, 2022 at his residence. He was born in Oberschwarzach, Germany on May 30, 1939. He left his birthplace to go to trade school in Wurzburg to learn to be a baker. He came to America in 1958 and owned two bakeries in Bayshore, Long Island, where he earned the nickname, "Muffin Man". Manfred met Ursula Arndt in America in 1961, and they were married on May 6, 1962. Mr. Geldner served briefly in the U.S. Army during the Vietnam War. In 1982, he moved the family to Medusa and operated Heidi's Restaurant in Greenville until 1989, while operating a home farm at the same time. He opened Geldner's Bakery in Medusa and operated that until 2014, at which time he became a full-time farmer until this year. He enjoyed being with family, and loved his grandsons. He loved farming, he loved his cows, and he loved his dog, "Coco".
He is survived by his wife of 60 years, Ursula Geldner; son, Michael; daughter, Heidi (Joseph III) Nicosia; grandsons, George Geldner (Lily Glucksman), Erich Geldner, and Joseph Nicosia IV; sister, Irene Habersack; brother, Gunter (Inaberg) Geldner; nephew and nieces. He was predeceased by his parents, George and Hildegard Saum Geldner, and his nephew, Werner Habersack.
Manfred has been cremated, and his family will conduct a private remembrance. In lieu of flowers, donations to the Community Hospice, 310 South Manning Blvd., Albany, NY 12208 will be appreciated. Condolence page is available at ajcunninghamfh.com.