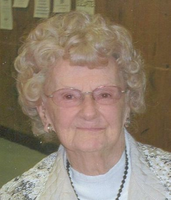 Vera N. Coffey
Coffey, Vera
WESTERLO - Vera Barber Coffey, 96, entered her Heavenly Home on Sunday morning, March 25, 2018. Born in Westerlo on March 9, 1922, she was the daughter of the late Nicholas and Edna Jones Barber. Vera was a graduate of Greenville High School, class of 1939, and was a lifelong resident of Westerlo. Her life consisted of faith, family, and friends. She was a member of the First Baptist Church of Westerlo for 84 years, and was the longest tenured member of the church. Vera was a member of the Missionary Guild, the choir, and assisted with Sunday School and Vacation Bible School. She was a homemaker until becoming employed at children's retail shops. Vera was devoted to her family, and prayed daily for her children, grandchildren and great-grandchildren.
Vera is survived by her loving husband, George Coffey, who she married in 1941; two children, Kenneth (Dawn) Coffey of Knox, and Karen (Cliff) Barber of East Berne; five grandchildren, Kim (John) Miller, Colleen (Dennis) Hartman, Nicholas (Keri) Barber, Amy (Eric) Morgan, and Matthew (Nicole) Barber; nine great-grandchildren, Austin and Jordan Miller, Abigail and Emmeline Barber, Jonah, Lucas and Andrew Morgan, Ian and Jesse Barber. In addition to her parents, Vera was predeceased by an infant brother, Kenneth.
Calling hours will be Thursday, March 29th from 5:30 to 7 p.m. at the First Baptist Church of Westerlo, 618 State Route 143, Westerlo, followed by the funeral at 7 p.m. Burial will be later in the spring in Westerlo Rural Cemetery. In lieu of flowers, memorial donations to the First Baptist Church of Westerlo, P.O. Box 130, Westerlo, NY 12193, or the Capital City Rescue Mission, 259 South Pearl Street, Albany, NY 12202 will be appreciated. Condolences may be expressed at ajcunninghamfh.com.