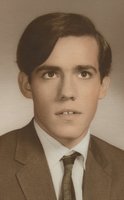 Robert Dale Ross
GREENVILLE – Robert D. Ross, 67, passed away on Monday, March 12, 2018 at Albany Medical Center. He was born on June 19, 1950 in Albany to the late Benjamin F. and Mary First Ross. After graduating high school, Robert was drafted into the U.S. Army, where he served until he was honorably discharged in 1972. He went on to obtain his Associate's Degree while he worked part-time as an iron worker. In 1974, he married Sandra Lounsbury, to whom he was married for 20 years. He then worked full time for NYSOGS at the South Mall in Albany. Robert enjoyed collecting, including stamps and coins. He absolutely loved music, and played the guitar. He was able to play a song by ear, having learned to read music later on. In addition to his parents, he is predeceased by his sister, Linda Fonda.
Robert is survived by his children, Danielle Ross (Amanda Hickey) and Aaron Ross; his grandchildren, Isabella Ross, Andon Fairlie, Chloe Ross, Aaron Michael Ross, and Ethan Michael Ross; his brothers, Benjamin Ross, Jr. (Patricia) and Bruce Ross (Roxanne Jennings); his extended family, Olivia Ross and Laura Buchanan; and many nieces and nephews.
Calling hours will be held on Saturday March 24th from 4 to 6pm at the A.J. Cunningham Funeral Home, 4898 State Route 81, Greenville, followed by a funeral service at 6pm. Robert will then be privately cremated. In lieu of flowers, donations can be made to either the Greenville Rescue Squad, P.O. Box 332, Greenville, NY 12083, or to the Greene County EMS, P.O. Box 655, Cairo, NY 12413. Condolences can be posted at ajcunninghamfh.com.