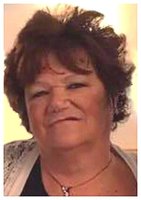 Mary Ann E. Dreier
CORNWALLVILLE – Mary Ann E. Dreier, 67, passed away suddenly on Wednesday February 28, 2018. She was born on June 30, 1950 in White Plains, to the late Frank and Marie Gipprich Passaro. She was raised in White Plains, and then later moved to East Durham. Mary Ann worked as a retail manager at Ames in Greenville. She enjoyed painting, baking, and playing bingo. She loved her family, and spending time with her grandchildren. She loved animals, especially her dogs, Sasha and Cricket. Mary Ann was a huge NASCAR and Patriots fan. She absolutely loved the beach, her favorite being Myrtle Beach. In addition to her parents, she was predeceased by her husband, John Dreier on June 29, 2010; and by her brother, Frank Passaro.
Mary Ann is survived by her daughters, Wendy Ann Cross, Sherry (Pat) Dreier, Christy (Kenny) Zarcone, and Mandy (Joe) Navarro; her grandchildren, Brianna, Brittany, Carlee, Abby, J.J., Brent, Tonee, Nicole, Joey, and Cailee; her great-grandchildren, L.J., Teagan, Lily, Sophia, and Aria; and many nieces and nephews.
Calling hours will be held on Monday March 5th from 5 to 8pm at the A.J. Cunningham Funeral Home, 4898 State Route 81, Greenville. A Funeral Mass will be offered on Tuesday March 6th at 11:30 am at St. John the Baptist Church, 4987 State Route 81, Greenville. She will then be privately cremated. In lieu of flowers, donations can be made to the American Cancer Society, Memorial Processing Center, P.O. Box 7, East Syracuse, NY 13057. Condolences can be posted at ajcunninghamfh.com.