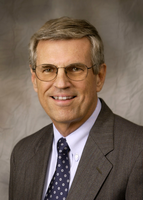 Roger A. Hannay
Roger A. Hannay, 75, Westerlo, NY, passed away on Monday, February 26th, 2018.
Roger was born in Catskill, NY to George and Emma Hannay on March 28th, 1942. He graduated from Berne-Knox-Westerlo High School in 1959. He received a BA from Wheaton College in 1963, followed by an MBA from the University of Michigan in 1964. Upon graduation, he served as a lieutenant in Vietnam. After completing his service, he began his career at the business his grandfather Clifford started, Hannay Reels, a manufacturer of hose and cable reels.
Roger held several positions during his long career, becoming CEO in 1990, serving in that role for the next 22 years. Roger then continued serving as Chairman of the Board until his passing. During his over 50 years of service, he led the company to numerous innovations in its product lines and manufacturing techniques, and testified before Congress and the NY State Legislature on several issues related to taxes and regulations that directly affect small family businesses.
Roger was active in many community, family, religious and business organizations, serving on several boards. A particular passion, given his past service, was for our veterans. He was a founding member of UMAC (Unified Military Affairs Council), which champions the Capital Region's military facilities, and a strong supporter of Veterans Miracle Center, an organization that provides free goods and services to any veteran in need. Roger had been an active member of the Delmar Reformed Church for over 20 years.
Roger is survived by his wife of 55 years, Sherley (Britton) Hannay, his children, Dawn (David) Bub, D.C. (Maryann) Hannay, Eric (Tina) Hannay, Elaine (Michael) Gruener, and Linda (Ken) Coleman; his brother David Hannay, his sisters Deborah (Ed) VanDerMolen, Ruth Hannay, and Sarah (Ronald) Schoof. Also, grandchildren Kevin, Brett, Makayla, Ashley, Paige, Andrew, Vanessa, Evan, Jenna, Corey and Kathryn, along with two great grandchildren and numerous nephews and nieces.
A memorial service will be held at Westerlo Baptist Church on Saturday April 21st at 1:30 PM. The family requests that in lieu of flowers, memorial donations may be made to one of the following organizations: Capital City Rescue Mission (PO Box 1999, Albany NY 12201), Capital District Youth for Christ (PO Box 443, Clifton Park, NY 12065), The Pocket Testament League (PO Box 800, Lititz, PA 17543), or Veterans Miracle Center (10 Interstate Ave., Albany NY 12205). Condolence page at ajcunninghamfh.com.