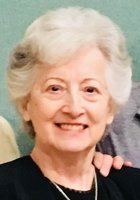 Rosemary Maichin
Rosemary Maichin, 76 of Hudson, New York, passed away on Tuesday February 6, 2018. She was born on October 10, 1941 in New York City to the late James and Peggy Digilio. After her retirement, she became a volunteer at Columbia Memorial Hospital in Hudson. During her seven years of service her passion, hard work, and dedication was well known by all. For her last three years of service she held the position of President of the Auxiliary.
She is survived by her husband, John Maichin; her 4 sons, Louis, John, Robert, and Charles Uvino and her daughter Lisa Chapman; two step children, Renate and John Jr.; 17 grandchildren and 7 great grandchildren.
Calling hours will be conducted from 2-4:30pm on Sunday, February 11th at the A.J. Cunningham Funeral Home, 4898 State Route 81, Greenville. A Funeral Mass will be held at 11am on Monday February 12th at St John the Baptist Church, 4987 State Route 81, Greenville. Spring burial will be in Greenville Cemetery. Flowers or, if desired, a memorial donation to the Columbia Memorial Hospital Auxiliary, 71 Prospect Avenue, Hudson, NY 12534 will be appreciated. Condolences can be posted at ajcunninghamfh.com.