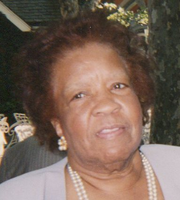 Ida B. Williams
GREENVILLE – Ida B. Williams, 95, passed away on Sunday February 4, 2018 at The Pines in Catskill. She was born on December 13, 1922 at Bellevue Hospital in Manhattan to the late Elias and Annie Byard Watson. She grew up on the Lower East Side and graduated from Wadleigh High School. Ida worked as a personnel supervisor in the human resources department at the National Council of Churches on Riverside Drive in Manhattan. She helped many people during her time there. Ida loved Greenville and the people here, especially those at the American Legion Post 291, where her son-in-law, Alexander Mc Intyre, was the commander. Ida was known for being one of the best cooks in the neighborhood and will be missed by many. In addition to her parents, she was predeceased by her husband, Richard Williams, in 2002.
Ida is survived by her daughter, Valerie Carter Mc Intyre; her Cornwallville family; and her huge extended family.
Calling hours will be held on Sunday, February 11th from 2 to 4 pm at the Unity Funeral Chapel, 2352 Eighth Ave., Harlem, NY 10027, followed by a service at 4pm. Burial will take place the following day, Monday February 12th, at Rosehill Cemetery in Linden, NJ. Condolences can be posted at ajcunninghamfh.com.