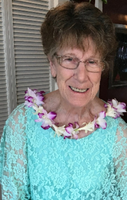 Maureen M. Farinelli
GREENVILLE - Maureen O. Farinelli, 78, passed away peacefully at Teresian House in Albany on January 30, 2018, surrounded by her loving family. Maureen was born on September 5, 1939 in Buffalo, New York to the late Martin and Arline O'Neill. She was raised in Ravena, graduated from Albany's Cathedral Academy, and completed her nursing degree at Columbia-Greene Community College. Maureen was an active member of St. John the Baptist's choir, Greenville American Legion Post 291, and a lifelong bowling enthusiast. She worked for over 20 years in the office of Dr. John Myers and Dr. Paul Snapper in Catskill before relocating to California, where she continued her nursing career in the office of pulmonary specialist Dr. Daniel Kanada. After some years of pleasant retirement in Norton Hill, Maureen in 2015 relocated to Honolulu, Hawaii, where she became well known for her lyrical talents at the Kilohana Senior Center. She was predeceased by her parents, her husband, Bruce Farinelli, her second daughter Patricia Van Dyke, her sister Kathleen O'Neill (Harry) Conrad, and her brother Thomas (Patricia) O'Neill.
Maureen is survived by 5 siblings: Eileen (Roger) Hallenbeck, Rev. James O'Neill, Maryann (Ray) Jones, Joanne (Phil) Raffiani, Sharon (Bill) Miller; by two daughters: Dawn (Jerry) Finin and Kimberly (Robert) Boomhower; by eight step children: Carol Kelly, Sue Persico, Kelly Thierbecker, Bruce Farinelli, Jr. (deceased), Theresa Amador, Jon Farinelli, Becky Farinelli, Peter Farinelli; her grandchildren: Joseph (Kayla) Boomhower, Matthew Boomhower, Shannon (Richard) Slater, Sarah (Michael [deceased]) Sclera, Bethany Becker, Ryan Becker, Ashley Becker; her great-grandchildren: Caden Boomhower, Alex Slater, Kaleb Slater, Hallie Becker, Isabelle Ambrose, Makayla Sclera; and many additional step-grandchildren, nieces, and nephews.
A celebration of life will be held on Saturday, February 3, 2018, with calling hours from 12:00 to 2:00 pm at the Church of Saint Patrick, 21 Main Street in Ravena, followed by Holy Mass at 2 p.m. In lieu of flowers, donations may be made to the Alzheimer's Association Northeastern New York Chapter, 4 Pine West Plaza, Suite 405, Albany, New York 12205. Condolences may be posted at ajcunninghamfh.com.