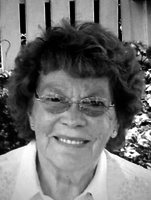 Helen J. Ingalls
FREEHOLD – Helen J. Ingalls passed away on Thursday, January 4, 2018 at St. Peter's Hospital, surrounded by her family. Born at home in South Westerlo, she was the daughter of the late Ernest and Louisa Swartout Campbell. Helen graduated from Greenville Central School, where she was secretary of her senior class. She attended Albany Business College, and later received an associate's degree from Empire State College. Helen operated a day care program in her home, and baked decorated cakes for weddings and birthdays. In the late 1980's, she was the founding director of the day care center at the United Methodist Church of Greenville & Norton Hill. She retired several years ago, but remained on the day care center board through 2017. Helen was a member of the church and UMW, sang in the choir for many years, and served on the administrative board. She greatly enjoyed bowling, sewing, and continued baking cakes as gifts, but her greatest joy came from her 11 grandchildren and 2 great-grandchildren.
Helen is survived by her husband, Stanley R. Ingalls; seven children, Marjorie Powell, Donald (Becky) Powell, Jr., Dian (Paul) Spinner, Scott (Jo-Ann) Powell, Megan (John) Lafferty, Genevieve Ingalls (fiancé, Thomas Howley), and John (Jeanette) Ingalls; 11 grandchildren and 2 great-grandchildren; two sisters, Dawn Frees and Loretta (George) Langdon; many nieces, nephews and cousins. In addition to her parents, Helen was predeceased by two sisters, Erma Pettit and Rita Flach.
Helen has been cremated privately. Relatives and friends are invited to her memorial service on Tuesday, January 9th, at 10 a.m. at Asbury United Methodist Church of Norton Hill, 5830 State Route 81, Greenville. The family will receive visitors following the service. All are invited to a reception in the Carney Center at 12 noon. In lieu of flowers, memorial donations to the day care center at Asbury United Methodist Church, P.O. Box 599, Greenville, NY 12083 will be appreciated. Condolences may be expressed at ajcunninghamfh.com.